A Big Indian has a Dutch Friend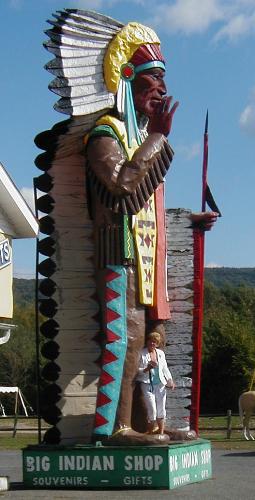 United States
September 20, 2007 7:09pm CST
When our friends from the Netherlands came over for a visit last year, we entertained them by taking them out for a Sunday drive. We drove to the Mohawk Trail which is in Massachussetts. On the trail are several Indian Trading posts where you can buy authentic Native American items. Here is a pic of the huge Indian that stands in front of the shop. Our friend loved having her pic with him.
5 responses

• Canada
9 Mar 16
That Indian would just reinforce the Dutch people's concept of North America. When we travelled to the Netherlands in 1972, my younger cousins were heard to comment.....they are normal people. They expected us to be dresses as native Americans.

• United States
9 Mar 16
My friend thought that Native Americans dressed in traditional garb. When I told her that they didn't she was a bit disappointed.

• United States
22 Sep 07
I am glad your friend had a good time, and you have pictures to hold onto the memories. It sometimes slips past us how entertaining even very simple things can be. Being a tourist can be full of laughs and still leave money in our pockets.

• United States
22 Sep 07
I love being a tourist. It is great when you become one in your own area. You know the best places and the cheapest fares.

• United States
21 Sep 07
This is great that she gets to see part of the native American culture. Even though it's a slight commercial version. Take her to a real Pow Pow maybe. Now those are awesome to see in person. Thankls for sharing. rated and left a comment on the photo as well. HAPPY POSTINGS FROM GRANDPA BOB !!~

• United States
21 Sep 07
If she comes to visit us again I plan to take her to one of the Pow Wows. There is one coming up and I am taking my mother to one.

• United States
21 Sep 07
It's so nice, Elusive, when you can look back on a visit from friends with pleasure. I can't think of anything more enjoyable than being with people you like, having fun. These memories will always be with you to remind you of that great time. I do hope that you will be repaying their visit soon.

• United States
21 Sep 07
We would love to visit them in the Netherlands. Hubby more than I would love it. He is from the Netherlands.

• United States
21 Sep 07
That sounds like an interesting and fun trip. That indian is huge and your friend looks soooo small compared to it. LOL