Scrubs:The last season!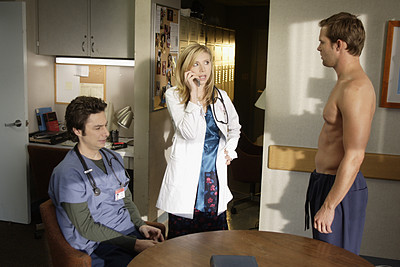 United States
October 25, 2007 12:49pm CST
Ok so I just seena promo and this is the last season! What do you think about that? I must say I wish it wasn't but i guess that's how it goes. I wonder what will happen this season and how they will end it all? What would you like to see happen? i want Elliot and J.D. together I alwasy ahve but I doubt that will happen. So what do you think? is this long over due or not?
8 responses

• United States
26 Oct 07
I believe it will be the last season. Salaries have gone up a lot and the show isn't doing well in the ratings. Its time to move on, but I'll miss the show.

• United States
26 Oct 07
yes I think you are right,it is time to move on,but I will also miss this show. It seems more and more my favorite shows,are lossing orginal members or ending all together.

• United States
25 Oct 07
I think Elliot and JD will probably hook up, and then that crazy chick that told him she wasn't pregnant will show up and throw some drama in there. I'm really going to miss that show, but it is getting a little stretched out, there's only so many times Jordan can get pregnant and JD can get his heart broken.

• United States
25 Oct 07
i have loved this show,but you are right,it seemed to go a bit down hill last season,when they tried to be too serious all the time,and cut back on the comedy,we have ER for that type of thing,I alwasy loved Scrubs for it's funny stupid stuff ya know.

• Germany
19 Nov 07
It is really the final season and as of Nov. 19, 2007, the final season has stopped production due to the WGA (Writers Guild of America) strike. There is even a rumor that the 12th episode will be the series finale although this isn't what has been planned. This is a sad news hopefully they will resolve the issues and be able to air the show until the final episode. Source: http://en.wikipedia.org/wiki/scrubs_%28TV_series%29.

• United States
19 Nov 07
Oh that would be a huge disappointment,I mean they can't tell the whole good story in just one episode,I wish this strike would end! i really hope this doesn't happen! Thanks for the info.

• Italy
16 Nov 07
I think it should go on forever!....hahaha. I love this show. I am so sad that it is ending, but atleast we will have the reruns. I too have always wanted JD and Elliot to make it, but I seriously doubt that happens.

• United States
16 Nov 07
Oh yes love the reruns,lol. I don't know about J.D. and Elliot,you never know what they are going to do at the end or how they will end the show.

• United States
6 Nov 07
I had actually heard that the 6th season was going to be the final one, and toward the end of last season when they announced that there would be a 7th, I was ecstatic! I think that the show has gone on long enough, and even though I'll miss it, I agree with their decision to cancel. I'm hoping that JD and Elliot end up together, because JD needs to get out of that relationship he's holding on to, and Elliot KNOWS that she doesn't want to get married, but we'll have to see how it goes. Either way, I hope that Turk and Carla end up pregnant again ;-)

• United States
6 Nov 07
I hate to say it but I agree,the show just doesn't have the same funny it did before,I still love the crew and will miss the show,but it's time to say goodbye. I hope J.D. and Elliot get together,and Turk and carla have another kid,but you never know with endings just look at the Soprano's finale.

•
29 Dec 07
Cant believe it is over!...But this season looks like it is going to be good. I reckon Jd and Elliot are going to hook up....its bound to happen! Dont want it to end!

• United States
5 Dec 07
I love this show. It seems like every time I really get into a tv show, it ends!!! I would love to see JD and Elliott get together.

• United States
5 Dec 07
I am upset to see it go. It seems like every time I like a show, it ends. I hope that JD and Elliott get together!