My Soldier and My Firefighter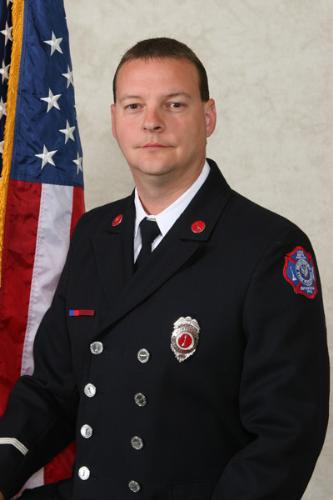 United States
January 20, 2008 9:25pm CST
I am always talking about Tracy but my other son is a real source of pride to. He is a full time firefighter and member of Indiana's Task Force One. I thought you might like to see both of them in there official uniform pictures. Tracys is from his 2003 tour and should be getting a new one for this deployment. His Uniform now had his stripes for Sergant. Will send you a copy when I get one. Hugs
8 responses

• United States
21 Jan 08
I know you must be extremely proud of both of them. i am an Army wife and I am so proud of my husband. i have pics of him on my profile, because i love talking about him and bragging about him when ever i have the chance. That is so awesome though that you have two in the line of duty, whether it's a soldier or a firefighter. God bless you and your family and tell them I appreciate what they do for our country.

• United States
21 Jan 08
Thank you so much. I am so proud of them and don't know what I did to produce two of them willing to serve their fellow man. I must have done something right along the way. Tell your husband that I have him in my prayers and you have every right to be proud. Hugs

• United States
21 Jan 08
Thanks so much ambie for the comment. I'm sorry that you never got to know him. I know you would have been doing the same. God bless you!


• United States
21 Jan 08
Wow. You are blessed to have 2 great sons. I am in Indiana also. I am in Leavenworth, but originally from New Albany. I will see their pictures after sending this to you. I can't see them right now. Not showing for me yet.

• United States
21 Jan 08
Thanks Steph. It is so great to talk with a fellow Hoosier. I hope you get to see the pictures. Let me know if you don't. You can sure tell they are brothers can't you. HeHe. Hugs

• United States
21 Jan 08
Thanks, check out my second discussion to see the soldier. I must say they sure kept me hopping while they were growing up. I guess all that energy got channeled in the right direction. Thank goodness.


• United States
21 Jan 08
You have two very tough sons. Do you know what that says about you, how they 'turned' out? That says they had/have one amazing mother. No way do boys become men like that without a strong and loving influence. You should be proud of them as you are, but they should be proud of you as well.

• United States
21 Jan 08
Thanks for sharing a picture of your son here with us. Your son's sure have made a mother proud. If I had sons, I would be bragging on them all the time if they were serving like your son's are doing. I will now go and respond to your other discussion with the pic of Tracy.



• United States
26 Jan 08
Sergeant? Wow!! I am sure you are proid of him. I know I respect these men and women that choose to fight for our Country, and make sure and say a prayer for them every night. Thanks for taking time to share him with us.

• United States
22 Jan 08
This is so cool that you are sharing these precious photos with us. I saw the pic of Tracy and left a note there for you. I think you had told me about Todd before.