do you have anything

Canada
11 responses

•
3 Mar 08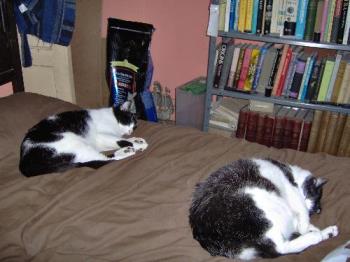 I seem to be collecting cats ... four at the last count. Books also. at least the books don't require feeding.


• United States
16 Feb 08
I've been recently started getting in to the habit of collecting dolls. All kinds of dolls, from barbies , bratz, ball-joint dolls, and etc. I just can't stop buying them.

• South Africa
16 Feb 08
I collect glass ornaments that have laser pictures etched in them (if you haven't seen one they are very difficult to describe but really beautiful), postage stamps and I also have a collection of candles though I have stopped actively collecting them now.

• United States
15 Feb 08
I guess it would have to be purses , But I do keep all the animals that come to the house . I feel sorry for them in the winter . They always look so cold and hungry .



• United States
15 Feb 08
I collect knick knacks all kinds, and believe me they are a pain in to butt to dust every week. I also collect I Love Lucy stuff.

• Philippines
14 Feb 08
I collect bags.. I like bags going with my outfit.. LOL


• United States
14 Feb 08
aything with angels on it from small statues to pictures to even my sofa pillows