Mediation Failed; now it goes to Trial!

Australia
March 27, 2008 8:17pm CST
I didn't tell anyone that the Mediation between my husband & his ex failed, at the time it happened. This was a few weeks ago. I am so fed up with process of dealing with his lying, manipulative ex. But the reality is that if my husbands really wants greater access to his children, we have o go through this legal process. It is now law, that if a parent wants a change in court orders, they have to try mediation first. Hybby told them it would be a waste of time with his ex, but he still had to do this mediation s... twice. I went yo the first mediation. We met in a different room from the ex & the mediator had to go from room to room. The mediator didn't even want me there & I wasn't allowed to comment. She says it is between my husband & his kids. This is not realistic as I am the step mother, whether the kids like it or not, & I am there to cook, clean, baby sit & run around with them, so I am damn well going to have a say in access arrangements. My hubby wants to increase his already 5 days per fortnight access to include half holidays as well. I dont really want any more time with the kids, but they are his kids & I will support him to get t5his. He is fully entitled to have them for half holidays, & any court will give him this. The ex knows this too, so she is trying to put all kinds of nasty obstacles in the way. We see the Lawyer again next Tuesday.
6 responses

• Indonesia
28 Mar 08

o dear, i am sorry about whats happened with you at this moment. hopefully, you would be strong enough to face this matter. although i am not being your mother, i understand how do you feel about your children although you are only step mother for them. i know its not easy to rise children and demanding many sacrifice fro us as a mother. i wish everything would be going well on next tuesday



• Australia
28 Mar 08
Thank you. Next tuesday is going to be stressful but interesting. The children have been heavily influenced by their Mother, which is making the situation much more difficult.

• Indonesia
28 Mar 08
hm, yeah, i can see how much those kind thing really bothering you. but just be optimized, i believe your children would able to see whether is good for them with their own mother or with you as step mother. keep uo your spirit dear



• United States
28 Mar 08
I would agree with you that your input is important, and should be part of the mediation process. I am sorry that you guys had to waste time on this. From some of your posts it has sounded like you are all getting along okay, though.

• Australia
28 Mar 08
Do you mean getting along with my step children? Sort of, I suppose. Things have been reasonably amicable, until my step son went home & told his Mum more BS about us. Hubby forgave him, but I haven't.

• United States
28 Mar 08
I bet you are counting the days until they are of legal age!!

• Australia
28 Mar 08
yes, in a sense I am. Although I am realistic enough to know that my husband will always want contact with them, & I have a feeling they will let him down, & this will make him depressed.

• United States
29 Mar 08
It is a shame you have to go through all of this but sounds like your court system is the same as ours here in the US - jump through hoops and still not have an answer to a problem... I would however like to add here - I was raised by a 'step-mother' and am very very thankful that she was/is in my life as she was a far far better mother to me than my natural mother ever was or will be. She raised me from the time I was 7 years old, I didn't like her when I was young, thought I was Cinderella when I was a teen, talked her into divorcing my abusive mother in my 20s and drove her to the church when she married her second husband in my 30s. She is the only real grandmother my kids have known and she and her second husband are 'Grandma & Grandpa' to my kids and grandkids - although legally we are no relation now. When ever I speak of 'my Mom' I am actually referring to my 'ex-step-mother'. You just might be exactly the person these kids need more time with :)

• Australia
30 Mar 08
That is wonderful that you developed such a great relationship with your step mother. I can't see that happening in my case. I have done a lot for them, & hubby always said they would remember when they were adults, but they have been poisoned by their mother over last years incident with the Police.

• United States
30 Mar 08
You never know, there was a time I hated mine too but as adults we do often develop thoughts of our own and it's very possible these children may someday look back and see what their mother did and it could turn against her in time. Wishing you the best though no matter what comes of this situation.

• Australia
31 Mar 08
Thank you very much for your supportive comments.

• United States
29 Mar 08
Good luck and hope it is resolved soon. I remember your posts about the behavior last year of the children. Its never easy when their mother gives them false information, as they don't know what to believe. I was wondering if there would be a possibility of having them one at a time. It sounds like the mother is alone when the children are gone. She might stop being so difficult if she has one with her. This would make life a little easier for you also. The son sounds like a real nightmare and maybe he needs a lot more attention.

• Australia
29 Mar 08
We seriously considered having them separately, especially since my step daughter is negatively influenced by her brother. But would you believe it, she refuses to come here without her brother.

• United States
29 Mar 08
That is terrible. Could your lawyer suggest it to the court? I think she needs time for female bonding with each of the woman in her life. I know my daughter and I would go out clothes shopping together and my husband would drop us off. We would go to the make-up shop and she would get her face done. Once we finished at this store we would head for shoes. Males don't really enjoy waiting for a teenager at the beauty shop. My daughter is an adult now and I'm so glad we had the time together for her to appreciate being a female. She enjoys getting dressed up and asks me how she looks in the outfit when she visits me.

• Australia
30 Mar 08
Perhaps the lawyer could suggest separation to the Court, but I doubt whether it would be allowed, as the Family Court here encourage siblings to be together.

• United States
28 Mar 08
I am sorry you have to waste your time with things you know will not work. Hopefully the judge will finally end it all. You will have to find a way to deal with the resentment towards the kids. Just remember they were being lead by a selfish parent. Just keep working on the relationship between you and the kids.

• Australia
29 Mar 08
Yes, I hope the Judge sorts out the contact hoyres once & for all. Yes, I know I have to work on my relationship with the kids. If you read my reply to a response above, you will see why this is so difficult for me.

• United States
28 Mar 08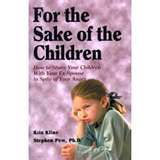 Jenny! You're probably going to hate me for this but I have to be honest. That is a terrible thing to say! How would you feel if your husband said that about YOUR kids? You would feel terrible, of course. So please show some compassion for him and his kids. Your animosity is showing in such a horrible way and don't you think the his kids feel it too? They're not going to want to see their father if they have to face such animosity from you. Think of it this way, they didn't ask to be born and they didn't ask to be in the situation that they're in but they're here and are in a broken family so now it's time to turn off that animosity and show some love for his kids. As for it being between him and the ex, well I hate to say this but she's right, it is between them two. I do understand your side however, you married him knowing he's a package deal. You better get yourself together here and do the right thing by him and his kids or you'll lose your husband in the end. I'd hate to see that happen.

• Australia
28 Mar 08
As far as I can tell, my animosity showed in two statements: "as I am the step mother, whether the kids like it or not, & I am there to cook, clean, baby sit & run around with them, so I am damn well going to have a say in access arrangements." and " I dont really want any more time with the kids, but they are his kids & I will support him to get this" Yes, my hubby knows how I feel about them, & yes, it would be better if he left me if he wants more out of me with his kids, because I am sure not putting up with their crap any longer.. I could write a book about what they have done., but here are a couple of examples: Both kids & their mother went to the Police last year & layed charges that my daughter had assaulted my step daughter. As I was present when the incident occurred that they reported, I knew it to be false. My daughter had to be interviewed by the police, & we hired a criminal lawyer. All charges were eventually dropped. It was a horrific time. They have never apologised to my daughter for the terrible thing they did & the lies they told. It is way too soon for me to have forgotten what they did. Another incident was when hubby was given his son a lecture. Son didn't like it so he went to the bathroom & called the police. The police rocked up & found that he wanted to go to his mUm. No hope of that, as the police could see he was completely safe with us. He just didn't want a lecture from his Dad about the bad things he has done. Hubby is a Police Officer, so he was very embarrassed by this. That is just two examples of stuff these kids have done, although I admit the 14 year old boy is much worse than his sister. I figured out years ago what my step son was like. I cut myself off emotionally from him, as I knew he would let his father down in future years. That is my big worry for my husband, that both kids, who are users, will let their father down when adults, if not before. I didn't want to to be involved emotionally in this.