Summer is officially here!

United States
10 responses

• United States
8 May 08
Hey Karen, yeah summer seems to have bloomed. here in TN we always seem to jump from winter straight to summer. Yesterday it hit 84, and I almost turned on the air con. I thought better of it and it cooled down last night and today. Although its raining like its going to cause the next world flood. We need it however we are sjut coming out of a very long drought.

• United States
8 May 08
Shhhh...oh, please! I'm not a summer person to begin with and hate the hot, humid weather..LOL...I suspect we'll go to a 90 reading temperature sure enough in the Big Apple...lately the highest it's gotten is 80-degrees and today it's been really humid as well.

• United States
8 May 08
I hear ya Pye, I can handle the 8o's but when it starts that climb into the 90's and it is so sticky outside that even a shower will not provide relief I am not enjoying summer very much. I am more a winter person myself.


• Canada
15 Jul 08
No we haven't hit the 90's yet up here in Canada. I know some provinces have had warm weather but we in Calgary haven't had summer yet and it is now the middle of July. I don't think we are going to get much of a suumer this year. We have nothing but rain rain and more rain. Even if it is nice during the day we get rain in the evening. Since this discussion is 3 months old I think you geot an early summer, you are lucky for that. I wish it would warm up and we would have summer, this year, but it doesn't look too good.

• United States
11 May 08
I am in Atlanta and it hasn't been on the 90s but the 80s are pretty consistent. It's just way too hot. I must say, I appreciate not being pregnant this summer. Last summer I was miserable. I froze my husband out many days. It's not too bad this year (for me that is). Enjoy the weather!

• United States
10 May 08
Well here in Lake Charles it is the same as you

• United States
9 May 08
Here in Omaha we are not in 90s yet. Today its 52 here, after so long wait we are getting at least this much warm. They are saying that the weekend will be rainy and cold. I am getting so tired of this cold weather here.

• San Marcos, Texas
9 May 08
Kareng..here in Texas we had 93 today and going to be 97 tomorrow and sat...yes Summer comes early here in the south!


• United States
8 May 08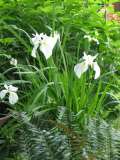 I already had the 90's days and they are now gone. Its a chilly 62 degrees with a slight breeze. My Louisiana Water Iris would like to go home, as they stopped blooming.