Any cruisers out there?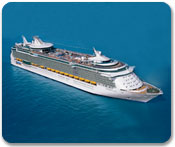 United States
May 27, 2008 1:11am CST
My husband and I cruise at least once a year. We are now Diamond status on Royal caribbean. We are looking forward to the launch of the Genesis project which will then be the biggest ship in the world. We did the Inaugural cruise of the Freedom of the Seas, then the biggest ship. It now has 2 sister ships. Love the surfrider!Who else?
2 responses

• United States
29 May 08
The first ship I was on was the Explorer of the Seas. It was a 2-night out and back just for travel agents. This was before it had it's maiden voyage. I loved that ship and I would go back on it, or one of it's sister ships in a heartbeat. That being said, last year I did a 4 night on the Majest and it was awful. Not that the ship was bad, the service was bad. Kind of turned me off to Royal Caribbean for the time being. My dad cruises them at least once a year, usually more and he can't say enough good things. I'm sure I'll cruise with them again, it's just that a single bad experience can leave a sour taste in your mouth for a while.

• United States
29 May 08
Wow that really surprises me, we just did the Majesty in March and had a blast, service was wonderful. I tried NCL and there service was awful, never again. The staff on that was redone and the staff is very proud of that ship. I do not care for the small ships that much but with the addition of Johnny Rockets and the deli and Pizzeria, it added more space. Maybe I am not fussy.

• United States
29 May 08
I think the problem is that I was spoiled on the Explorer. There were only about 500 people on board so the staff was there every time we turned around. It's completely different with 2000-3000 other people with you. I just didn't like the fact that you had to stand in line for everything. I dind't even get to enjoy the chocolate buffet because they couldn't get everyone through in time. I stood in line for hours, up 4 flights of stairs, only to be told that they had run out of time. To me, that's just bad service.

• United States
30 May 08
Well I do prefer the bigger ships myself and are palnning on going on th new one in '09 the Oasis of the Seas. We already did the Freedom and that was awesome.

• United States
31 May 08
Well, you know I am a cruiser at heart, and if it were up to me, would do one a year like you!! But with the large Italy trip looming, and costing us a bundle (can't wait, so excited), it will be at least a year before we do. LOL I LOVE RC ships. I was watching Travel Channel last night and they had a thing on the Freedom of the Seas, the one you did the maiden voyage on. It's some ship!! What is the newest one coming out and is it much bigger than the Freedom?

• United States
31 May 08
Jan, this new ship is way bigger. There is a Cental park in the middle with balcony cabins overlooking it, and that will be the length of a football field. The maiden voyage will be Oct-Dec of 2009. Maybe you can make that one. It is leaving from Ft Lauderdale. On June 18 at 12:30 there will be a big announcement about the other new features. I am asuming it will be on TV also. I will email youi a link to the website video. I just learned while on our last cruise that you only need leave a deposit for one person to reserve a cabin, and add the second person later on. The final payment is only 90 days before the cruise. so I know I will have enough time to dsave for it.