Do you know how to play a guitar?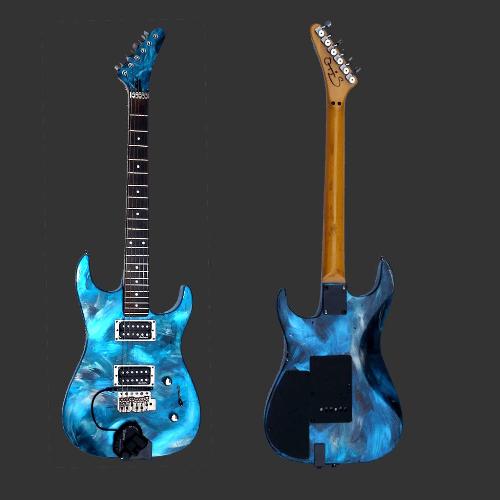 India
July 10, 2008 9:55am CST
I have a passion to learn guitar. Its like a dream for me to learn how to play it. I even started the Guitar classes but couldn't continue with it due to a busy schedule. The first time i took a guitar in my hand, i was nervous holding it, but had a pleasnat feeling in my heart. I used to feel nice whenever i would hold the guitar in my hand. I wish to learn it. but lets see if i can manage to take some time out.. What about you? Do you know how to play guitar? When did u learn? How well you can play it? Which song would u like to play on the guitar?
10 responses


• India
14 Jul 08
Thats cool man!! U got to learn the best thing at the the rt age.. U had the rt guidance and ofcourse, all the resources available readily..

• India
14 Jul 08
Thats cool man!! U got to learn the best thing at the the rt age.. U had the rt guidance and ofcourse, all the resources available readily..


• India
14 Jul 08
Is that so? All the best to you too.. hmm.. So we may someday end up humming the same song.. me on the guitar and u on teh flute.. .. By the way whats ur real name..

• United States
11 Jul 08
I have played for 25 years. I found a book that showed where to put your fingers with pictures.The hardest part was dealing with the pain in my figer tips and craps in my wrist. But that gos away after awhile.After you put your fingers where the pic tells you , just try to figuir out the picking. You can get the books where they sell guitars. I started with led zep, one of my favs.Now I play drums too, always wanted too. I practised in my car for 20 years, so i picked it up pretty quik.You can get books that have pics of all the cords,and fiddle around with it.Have fun, dont put to much pressure on yourself, and just do it.

• India
14 Jul 08
25 years is really a long time. I don't think i have that much patience to wait till the time i learn to play a guitar well.. Ya, the first 2 classes i had for learning guitar, I faced a lot of problems with my fingers. they started aching after my first class itself. And even i had the same problem with my little finger. i was unable to stretch it for all the frets... The did give us a book, telling the whole structure of the guitar and where to place the fingers, but i think i need to take out time, to start it all over again.. Practised drims in ur car..for 20 years.. Mind blowing..


• India
12 Jul 08
Oh really.. I think need to join ur classes then. Hope you would be willing to teach me some of ur arts.. I am really impressed..


• India
30 Jul 08
Even i llove music and wish to learn guitar. But i don't have a girlfriend who could teach me..lol

thanks for sharing ur views. Hope your boyfriend does teach u to play guitar. By the way where r u from?

• Canada
11 Jul 08
Yes, I've been playing the guitar for the past 47 years and have never had a lesson. Even if you don't have time for formal lessons, I would encourage you to spend even a few minutes a day holding the guitar and learning two or three basic chords. I started strumming,when I was 13 and now enjoy writing songs, singing and home recording. Today with the computer and multi-track recording,it's amazing what one person can create ....playing each part of the song. I enjoy playing the songs I have written as well as older songs from the 60's and 70's. Once you feel confident learning a few chords .... I'm certain you will find time....somehow in your busy life!

• India
14 Jul 08
ya.. I know what all i need to do is just take out some time out of my busy life to start my lessons again.. I just find ur achievement remarkable that just by strumming and trying ur hands on the guitar, without any lessons you could sing up your own songs.. Ur achievement is really a motivation for me..

• United States
11 Jul 08
I do, obviously. Guitar became a passion of mine at fifteen. At first I used to be really quirky when I played. It was like I didn't know how to handle it, lol. But now I am comfortable and confident about my playing. It just takes time to become a great player. You should definitely go back to playing. And to answer your question I really like playing Pink Floyd's 'Wish You Were Here'.

• India
14 Jul 08
Oh thats cool.. I wish if i could ever listen you playing teh guitar or even learn it from you. Ya, i need to be patient while learning and should think of going back to start learnign.. Thanks buddy!

• United States
11 Jul 08
yes i do how to play guitar i ahve play guitar for 4 years and i totally love it i learned when i was on 8th grade. i can play very well 9/10 i play on a coustic electric guitar. Dont know every song i like i try to make my own version of it with my guitar.

• India
12 Jul 08
Seems like we have an upcoming rockstar.. Wow!! I could only imagine if i could play a guitar and that too an electric one.. Hmm.. So have u ever come up with some new rhythm? Oh by the way, u seem to b new here.. Welcome to the mylot family

• United States
10 Jul 08
I never learned how to play a guitar. My brother in law tried to teach me one time. I learned a little bit of the beginning of a song but that was about it. I always wanted to play Freebird by Leonard Skynyrd. I think that would be great.

• India
12 Jul 08
U never tried to learn it at a later stage.. Nothing is too late in life to learn. Even i would try if i would ever get back an opportunity to learn guitar

• China
10 Jul 08
I don't know how to play a guitar, though I wish I could play. I am a fan of any person who can play the guitar. It is one of the biggest frustration I have in my life. I like music so much but it seems that music doesn't like me at all. Though that is the case, I try singing now. We have a guitar at home, my mom can play a little. I just love strumming a little and start dreaming. I didn't have any actual lesson because I am busy person. But I still wish I would learn. Take care =)

• India
10 Jul 08
Hey, there is nothing to be frustrated about. everyone cannot get what he wants in life. But ya, I can understand ur pain. Bcoz i feel the same whenever i see someone plkay a guitar. I just wish if i could.. Well, i am not good at singing too.. But anyway, its gonna be a dream for me.. Because even i ahve gone busy now.. Anyway, I wish atleast you could become a singer now..