Ceiling fans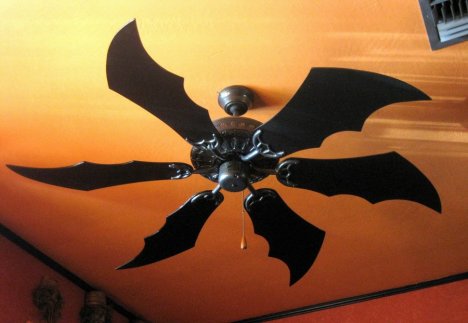 United States
November 22, 2008 3:28pm CST
How many ceiling fans are in your house?? How often do you clean them?? I have two in the living room. One in the dining room. and one in each of the bedrooms. So I have six ceiling fans all together. They collect dust very easily and I admit I don't clean them as much as I should. I try to clean them at least once a month.
7 responses

• United States
23 Nov 08
We have 4 ceiling fans and you are right - the dust is attracted to them like a magnet! I will have to climb up there and clean them tonight now that I think about it. I never really look up there, yuck - they really need a cleaning.

Also, did you know that if you keep your ceiling fans on in the winter that it helps to push the warmer air down into your rooms? All you have to do is reverse the direction of the blades.

[i][b] Have a great day and happy myLotting!!![/b][/i]


• Philippines
22 Nov 08
i dont have any ceiling fan but i want to have one. we only have desk fan and my head is aching already for my child is playing with the electric fan. it is hot here in our country a fan is very important. why is it hard to clean ceiling fans? do you think i should avail one? or do you think i need to buy a wall fan instead? please advice me.



• United States
24 Nov 08
We have one ceiling fan in our kitchen and one in our family room. I wish we had more, I would love to have one with an over head light in our bedroom. We have to depend on a lamp in that room, and we have big box fan sitting on our night stand, not too attractive. I would really love to have a ceiling fan in there. I also think my oldest son's bedroom could use one too, his room gets really hot in the summer time, and even when the air conditioning is on his room always feels pretty warm. Our kitchen ceiling fan gets really dirty. We actually have to take all the paddles down and wash them individually, it gets grease on it and stuff from cooking and then the dust lands on the grease it is pretty gross. The one in the family room gets dusty but not that quickly.

• United States
23 Nov 08
i have eight in my house and for some reason the smallest room in my house has two ceiling fans heck if i know why. I also need to dust mine more often. I do love having fans but they are a bit of a chore to dust as i am short.

• India
22 Nov 08
in my house around 5 or 6 fans but i m in hostel there are total 4 fans but is not suitable for me . i am o upper stair bed so i can't get the perfect fun of fan . i m no satisfied to it .