Have you ever grilled a pizza or eaten a grilled pizza?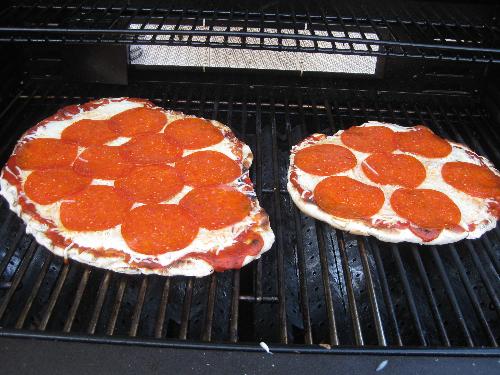 United States
6 responses

• United States
24 May 09
I don't think I've ever grilled a pizza pie, let me know how you did it and I might give it a shot.

• United States
24 May 09
Your post almost makes me miss Gather as well, but I do not know when I would have time for it. Love the instructions.

• Canada
23 May 09
Hi ladym33...You are making me hungry!...I have absolutely both had and made a grilled pizza!...Yummy!!..What I did was grill the veggies separate in a foil packet, grill the dough by itself, add the sauce and veggies and meat and cheese once the dough was cooked, return to the BBQ and heat til cheese melted! Now I know what Im making tomorrow!


• United States
24 May 09
No, we have not ever done that, but would definitely be open to the idea, so tell me how to do it. I am hungry right now and that sounds really good. What do you put on it, and do you start with the meat fully cooked?

• United States
24 May 09
You place the dough on the grill after you roll it out. I found that pre-made frozen dough left out to thaw and rise gives a better texture than fresh dough, that goes on the grill easier. The really fresh soft dough seeped through a little bit. You let the one side of the dough almost thoroughly cook the bottom will be starting to get golden, then you flip it over, and put your sauce, cheese, and meat on. We used Ragu jar pizza sauce, shredded mozerella, and tour up a few pieces of the provalone and placed it on top the mozerella, and sprinkled a little parmesan on. We used large round pepperoni. After you flip it you have to get everything on there really quick. It will be firm so everything will stay on, but you have to move fast so that the cheese can melt and the meat can cook before the crust burns.

• Philippines
23 May 09
I haven't tried that but I've heard about it. I've also heard that it's really delicious and I'm now craving for one. Maybe I'll make one this weekend. I'll make one with lots of cheese and pepperoni. Yum!

• Canada
26 May 09
no I never tried it, so I don't know how to do it, what about all the topings how can you grill them.

• Italy
25 May 09
I've never grilled a pizza! In my opinion, there is a problem on grilling pizza...you need to heat ALL the pizza, also on the top, if you grill a pizza you heat only the bottom... I think I will never grill a pizza...