Yellow Tiger Lilies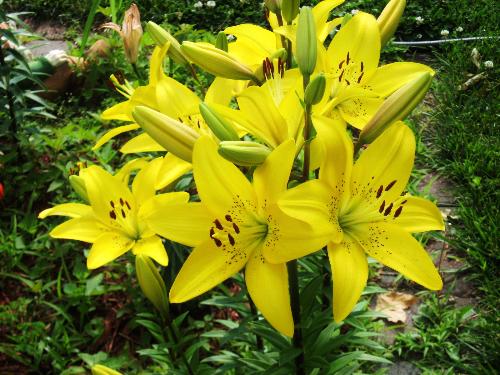 United States
July 5, 2009 5:10pm CST
This is a shot of some of my Yerllow Tiger Lilies I have out front in a flower bed. Some are opened with a lot more yet to open. These are my faves of all the various Lilies I grow in my yard. What type and or color are your favorite Lilies? Do you have any in your yard? HAPPY POSTINGS FROM GRANDPA BOB!!~
10 responses

• United States
6 Jul 09
Those are beautiful! I prefer the orange ones, just because that's the kind both my grandmothers had and I grew up with them. My stepmother has a huge bunch of them in her yard, too. What I would love to have it a trumpet vine growing along my fence. Those are beautiful.

• United States
6 Jul 09
Look at the photo I added above in my comment. It shows the orange pink and some of the asiatics as well. HAPPY POSTINGS FROM GRANDPA BOB!!~


• United States
5 Jul 09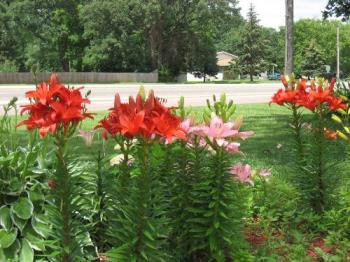 Here's a wide shot of some of my Lilies. Orange, Pink, Asiatics kind of hidden, and the yellow ones at the far right before they were opened up. HAPPY POSTINGS FROM GRANDPA BOB!!~

•
6 Jul 09
Hi GRANDPA BOB, They are so beautiful, you have done so well, have you ever taught of entering your flowers or veggies in a competition, bet you'll win hands down. Just lovely!! thank you for showing it to us. Such a treat. Tamara

• United States
6 Jul 09
Nahhh never thought of it and wouldn't anyhow. HAPPY POSTINGS FROM GRANDPA BOB!!~

• United States
6 Jul 09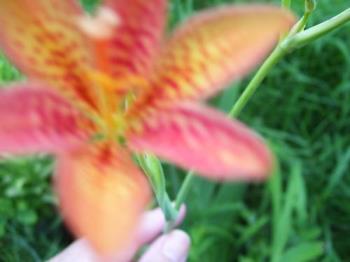 I love lilies. What we called tiger lilies when I was a kid were always deep rich orange with brown or black freckles in the throat.Now there are so many more varieties of tiger lilies, it is like growing a rainbow. I do not have any of them. I do have some Asiatic lilies, some orange, some darker orange and some white. I used to have some pink and some lemon yellow and some tan, but I think it has gotten too shady for them where they are. I need to find them a new home.I went to look for an image of a lily that I really love online to see if I could post it, but cannot post them as they are copy righted. I love Stargazers. It turns out they are also considered tiger lilies. They are deep fuschia red, with dark purple freckles and a white rim on the edges. There is also a version that is white in the middle with red edges. I guess my favorite lily right now is my blackberry lily. I do not know if it will bloom this year, but the flowers are about as big across as a quarter. They have freckles and are shades of orange. I will try to add an image of it.

• United States
6 Jul 09
My Asiatics were in a shaded area and they leaned so far over for sunshine they nearly touched the ground. I still have a few to transplant this fall though into a sunny area. I love the blackberry vaRIETY. i MAY LOOK INTO THEM NEXT SPRING. HAPPY POSTINGS FROM GRANDPA BOB!!~

• United States
6 Jul 09
These are one lily I didn't have when I had my yard and garden, always wanted them though. Maybe when I get my own place again you can hook me up with a root :) These are beautiful and I like them more than the orange.


• St. Catharines, Ontario
6 Jul 09

I think my favorite would be the Stargazer lilies. I had them at my last place and again here, but something got them last year.

• Shingle Springs, California
7 Jul 09
Day lilies, lots and lots of them. My favorite is kind of a busy orange one. We've been handing pieces of it down since before my parents moved out of the house I grew up in in 1988.

• United States
7 Jul 09
I have the orange tiger lilies...and that reminds me, my iris's haven't come up yet...I have morning glories growing there and maybe they choked my iris's out..have to check that out...going to check your photo now..

• United States
7 Jul 09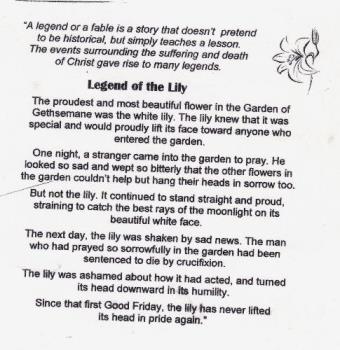 When we bought this house there was and still is, orange tiger lilies which are beautiful. They must be very popular in this area because along the roadways there's a bunch of them growing. They're here and there but when we do see them, they're in bunches. Very pretty. Now the first time you mentioned these flowers, I remembered mom having a poem called "Legend of the Lily" which I finally got a copy of to post here for you. Right interesting, don't you think?