Anyone have a Maine Koon cat?

Boise, Idaho
July 26, 2009 12:52am CST
We used to have a Maine Koon [Please excuse the spelling. It should be a C not a K] Cat. He was a beautiful animal and great pet. Can't remember how long we had him but one winter we lost track of him and found him out in a wooded area dead of old age. He looked like a long haired grey tabby but with the regular long flowing coat and rectangular body type. He loved to play. They have great dispositions, are good natured and very intelligent. They are said to be excellent mousers and I guess this is why they were bred. Does anyone have one and if so what is the story?
5 responses


• United States
26 Jul 09
They are really good cats and they get big as well. I have a picture below that you should be able to see so let me know what you think. Take care and happy mylotting to you.


• Boise, Idaho
26 Jul 09
You otta go to www.cfa.org and check out some pictures of them. Pretty and good natured.

• United States
26 Jul 09
Nope I don't have that type of cat, but I do have 7 house cats. 6 are short hair and 1 is long hair. I have 5 males and 2 females. Casper is a male short hair gray tabby tuxedo Pounce is a male short hair all white Spook is a male short hair all black Salem is a male short hair all black polydactyl Reggie is a male long hair orange tabby tuxedo Dog Food is a female short hair light orange tabby Nyssa is a female short hair English tortoiseshell I don't just love cats, I worship them....LOL

• Boise, Idaho
26 Jul 09
I love tabbies. They are so cute. Love the name Nyssa for a cat. We have a town just over the border into Oregon by that name. We have 6 cats. 2 females and 4 males. The Koon cat was a dear. Very playful and loving. Check them out on www.cfa.org

• United States
26 Jul 09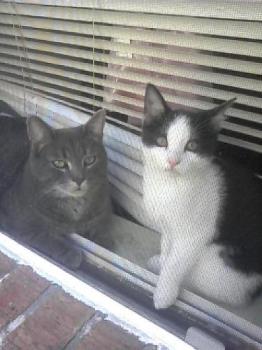 I have a cat that I think is a maine koon. I think he is a mix breed. I am gonna add a picture to this so you can tell me if he is. Best cat I have ever owned so I guess no matter what kind of cat it is I love them. Take care and please take a look at my pic and tell me what you think. Happy mylotting as well.


• Boise, Idaho
27 Jul 09
I can't see the picture very well. If you go to www.cfa.org/ you can see several pictures and perhaps that will help you. The site is very nice and if you like cats can be very enjoyable to navigate and check some out. Enjoy

• United States
26 Jul 09
No I do not have a maine koon cat what my mother has as a pet is a female french poodle.

• Boise, Idaho
26 Jul 09
Interesting. Not one of my favorites.

• India
18 Nov 09
I like Maine koon cats very much and they are very cute to see.I have a maine koon cat and it is four years old and i love it very much.Every day i take care about them and their food and diet.I usually watch in TV different types of cats.Whenever i went outside i will keep them in a safe place.Maine koon cats look very cute,funny and pretty looking.