Of Christmas Gifts and Birthday Gifts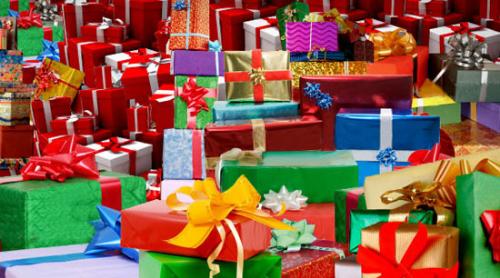 United States
September 22, 2009 3:57pm CST
My family celebrates two occasions during the month of December - Christmas which everybody looks forward to, and my mother's birthday, which is a few days away from Christmas. I'm thinking of what to give her this year. What are the best gifts that you received on Christmas? On your birthday? What gifts do you think you've given were most appreciated?
5 responses

• United States
23 Sep 09
The best gifts to give a person are gifts that are hand-made by yourself, or by someone, unique gifts that you can't find just anywhere! This makes it a very personable impression, and they will remember it !

• United States
24 Sep 09
Hi musicman, Oh that is a great idea too! One of my personal and myLot friends, msfrancisco (response no. 3 in this discussion) makes crocheted blouses and apparels, and she is really good at it. I actually bought one of her masterpieces and it's so beautiful. Maybe I should confer with her if she can accommodate making one for my mom. Thanks for giving me another option.


• Boston, Massachusetts
24 Sep 09
oh well my dear... i will be honored to make one for your mom. just tell me her size and color and i'll take charge of the design. in two weeks you will have your special handmade gift for your mom. thanks for this commendation... i'm touched!


• Boston, Massachusetts
23 Sep 09
hi my dear friend doryvien, this question challenges me to really think of something so unique for your mom on her birthday... is it possible for you to give her a day on her birthday?...just stay beside her, pamper her with all your attention and love. comb her hair while reminishing funny and lovely childhood stories, give her a soft and gentle massage using an aromatherapy oil to keep her relax, give her a foot spa, cut her finger and toe nails, give her a hug and tell her how lucky you are for having a mom like her, finally kiss and tell her how much you love her! so sweet and lovely right! i think this will be the best gift that your mom will receive this christmas and for her birthday!

• United States
23 Sep 09
Hi msfrancisco, That would be lovely. I'm sure my mother will be very happy if I do this to her. She always complains that I'm busy and asks when I can spend longer time with her. Each year the Christmas preparations both at home and at work take so much of my time that my loved ones take the back seat. I should make things different this Christmas, and make her birthday a truly memorable one. Thanks for the wonderful idea.

• Boston, Massachusetts
23 Sep 09
thanks dear. i already did that to my mom and she was so pleased. hope you can really do this to her... do it dear while you still have the time and oppotunity to let feel how you love her!

• India
23 Sep 09
I also started thinking about Christmas. My husband who currently resides in a different coutnry is coming to my place to celebrate Christmas with me and my family. It is big job for me to find three gifts for him - one for his brithday, another one for Christmas, and the other one for our wedding annivrsary. I am not good at finindg gifts. So, I am seriously thinking.

• United States
23 Sep 09
Hi daliaj, Which reminds me, it is going to be our 12th wedding anniversary this year, just a few days before Christmas. How could I have forgotten? He too works in another country, but he's not coming home this Christmas, so we will celebrate the season online

. Now I have 3 extra-special gifts to think of - 2 for my mother, and 1 for hubby.


• Malaysia
23 Sep 09
Hi doryvien, seems that you have to prepare christmas gifts for your family in December. Yeah, there will be another birthday gift for your beloved mom in the same month. I think our mom would feel happy for sure if we remember her birthday and accompany her to celebrate the great day together harmoniously and happily. She would love whatever gift we give to her. Anyway I like giving practical stuff as birthday gift to my mom most of the time

I'm not a christian so I usually don't have any chance to receive any christmas gifts

I would like to attend the family parties after receiving the invitation from my friends. For kids I usually would buy story books for them as christmas gifts before attending the christmas gathering. Toys as gifts for sure if my friends' kids are still toddlers Take care and happy posting


• United States
23 Sep 09
Hi ikbooi, You're right, mothers are generally easy to please, it doesn't matter to them whatever we give, what is important is we remember and share with them their special day. I wanna make this year special for her because I've been quite "away" from her in the previous years...It's good to know that you do enjoy the Christmas season even when you are not "required" to celebrate it

. What is important is the spirit that the occasion brings, and that's love, peace, forgiveness and these three things don't discriminate between races, nationalities or religions. May we have them all this season and beyond.

• United States
22 Sep 09
I always try to consider what people love or what they need. For instance my husband broke his nice camera earlier this year. We bought a cheap one to replace it, but the one he broke was nice, and I know he hates the new cheap camera so I am going to get him a new nice camera for Christmas. I know that will make him happy. Also he recently had throw out his comfy leather office chair because it was just getting too worn. He is now using an old kitchen chair. I am going to get him a nice new leaher office chair for Christmas too, I know he will like that. Also a Chicago Bears grill cover. He had mentioned that he saw one and thought it was really cool. Those three should cost plenty and will probably be all he gets but I think he will be really happy this year.

• United States
23 Sep 09
Hi ladym, Three gifts on one special occasion? He must be very happy this Christmas! Your husband is so lucky to have you for a wife as you are very sensitive to his needs and wants. I think gifts that are functional and practical really appeal to husbands, they prefer those that they can use in their daily activities than the ones that serve as mere display. Like you, I do tend to disregard the price if it makes my loved ones happy.