Do you learn daily?

Canada
9 responses

• India
11 Dec 06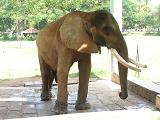 The world is so big, there are million things to learn and I am unable to catch up with it. So, I decide to learn everyday, howmuch ever possible. Learning can be in any field. It was not learnt earlier, because it was not known, or it was in my context or it was totally nor required. My today's learning includes the following: 1. How to prepare a legal affidavit to obtain a signature from a lawyer and magistrate. 2. How to fill the passport application form for correction in passport. 3. In Internet, I wouldlike to learn how to own a web site.

• Australia
17 Feb 07
Yes I learn something every day .... watch that idiot in the blue ute pulling that old trailer ..... that other idiot in the red sports car is going to cut in ..... take deep breaths and say 'they are idiots who do not know what they do when they cut in front of a D-double truck carrying 50 tonnes of goods'. Actually learn more on the farm ..... usually after we have done something wrong ... and it has cost us money. Today I learnt that my oldest daughter couldn't work her way out of a wet paper bag .... sad to admit that my own daughter is also an idiot. I learnt that until I get 500 posts here I cannot do a cut and paste ..... and already had a discussion ready in notebook to put in here at myLot ..... so it will have to wait for now.

• India
17 Nov 06
yep.. i try to learn something new everyday.. today i learned what to do on marriage anniversary.. and what not to...

• United States
11 Dec 06
I also love knowledge and learning, and do so as much as I can. This is one of the reasons why I enjoy the internet so much, because there are endless opportunities to learn new things, in just about any category one can think of. It doesn't necessarily have to be "educational"; acquiring wisdom and life knowledge is very appetizing as well.

• Canada
11 Dec 06
Thanks for the response and welcome to Mylot That is very true, the internet is a wealth of information...there is absolutely nothing that you cannot find info about..I use it all the time when I am stumped about something like a project or what ever. And within a few minutes I have what I am looking for.

• Australia
17 Feb 07
Yes I do and I think that it is most important that we learn something new every day. If we cannot learn anything new, then what is the point of living if we know it all. LOL Today I learnt that our son's employer values him enough to give him a substantial pay rise, even though he is only a casual worker and they know he will be leaving in about 2 or so months to continue wandering around the world. That makes me one proud parent that his employers recognise his talents. I learnt that I should never leave home made jam in the bottom of the linen press, because when the ants find it everything has to be cleaned out. LOL Those 2 were enough lessons for the day I think and as the day is nearly over here (Australia), I think that is a good thing too. :)

• India
11 Dec 06
Yes, life is process of learnibg ! You learn everyday some thing or other ! You can learn to do small things from your sub ordinates and servants, in which they are experts. You get daily new experiences with the same people and same surroundings which definitely gives you a chance to learn ! Constant observation and learnibg only keeps the pace of life going ! Inventions, discoveries are results of curiocity and learnibg ! I like myself to a student of natutre for ever !