Card 1-The Magician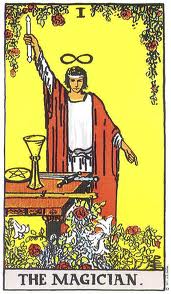 United States
January 6, 2011 10:04am CST
The Magician is an interesting card as it is the first, in progression, where the Fool begins to use his knowledge in alchemical processes. The Magician represents the aspirations of the Adept but he is still working with worldly elements to get what he wants. Though no card is bad or good, it just is what it is, there are warnings with each card that are there to provide us with the guidance we seek from the cards. When we see the Magician in a spread either by itself (as we draw one card) or in a spread where by which we seek the cards around the Magician for further clarification it generally is showing us that we are in a sense discovering magick be it will power, faith in prayer, or actual ritual magick to obtain the goals we want in life. As the Fool was located between Keter and Chokmak, the Magician is located between Keter and Binah. Binah on the Tree of Life is Understanding. So the Magician represents our ability to take that knowledge we were exposed to in the Fool and making meaning of it. This is the point at which the warning label clearly flashes the yellow light in our direction. We can think of this two fold. The wise magician takes their time learning their new skills and using them appropriately. A seasoned Magician such as Gandalf or an older Meryln would come to mind when using magick appropriately. The brash magician, or hence apprentice such as in the Sorcerer's Apprentice where when left alone in the Magician's parlor creates massive chaos that he cannot control is the warning to use self-control. Knowing when to use magick and when not to use magick is key. We may wish for that new job, but knowing just how quickly to proceed is wise. One would not just quit his current job without having another one lined up if one had a family to take care. The wise magician understands the consequences of his actions be they good or bad. The Magician like any card does depend greatly upon what the surrounding cards in the spread may be, as well as the question posed, but it is a card of self-control and study. It is the card of understanding, and not just a "I read the label", but an in-depth understanding of knowing something inside and out before one uses it. It is the card of knowing when to use one's magick/skills and when to use another means to accomplish the goal. The Magician represents obtaining knowledge through work/study where as the Fool represents obtaining knowledge directly from the Divine or through Divine inspiration. We can compare the two by looking at the Fool (or Divine Fool) as the Mystic, where as the the Magician is the Magus. When the Magician is pulled we can expect that we will have to work and study for our creations, they will not simply be revealed through Divine contact. We can expect that regardless the question at hand that we ourselves will create our outcome. [b] Questions: Do you see yourself as an alchemist experimenting with life, and how do you see the Magician? Do you see him as a manipulating elements or a co-creator of the Divine?[/b]
6 responses

• United States
9 Jan 11
Looking at it the way that you've described here and looking at the way that I've seen things occur in my own life to date, I really think that the magician can be nothing more than a co-creator with the divine. The reason that I see it to be this way is because there are certain things that are destined to happen in our lives, but I also think that we have control over the journey that it takes to get to those ends in our lives.

• United States
10 Jan 11
Dorann- I think very much that the Magician is the co-creator with the Divine. We do in part create our own realities by the choices we make in our journey. Namaste-Anora

•
4 Jun 11
I am new to learning the Tarot and I am really trying to understand the meanings. I think a little too hard at times because I often get confused. Am I right in thinking then that The Fool tends to stumble through life and should be more aware of the roads ahead. Whereas, the Magician is more thought provoking and conscious of decisions he has to make?

• Boise, Idaho
8 Jan 11
I find it interesting to see the cards that continually appear around the Magician. I don't think the Magician is totally manipulation elements not a co-creator of the Divine. I think they all work together, maybe some more than others and surprising as to which ones. I usually use a different type of deck. It is a gypsy one and pretty basic.


• Boise, Idaho
8 Jan 11
I think things work as they should too, just think it interesting how they do at times.

• United States
8 Jan 11
The gypsy deck is a nice one as well. We have several decks that we use for various types of readings. I think that things work as they should. Namaste-Anora


• United States
8 Jan 11
Heyya Anora! I am thinking that the magician and the fool are very similar then? I guess I thought of the fool as being more of a thirst for earthly knowledge versus the divine knowledge. If I were to just look at these cards and know they meant knowledge and how it was obtained I would easily mix them up. I suppose the magician to me could be how knowledge was used...making things happen I suppose.

• United States
10 Jan 11
Jen- You are right in that many of the cards in the tarot do have overlapping meanings, and yet are in their own right very separate. In this case the Magician does have some similar traits but as mentioned he knows how to control the knowledge he has to a degree. You hit the mark in that on the tree of life the Fool and the Magician are opposite each other and the Magician receives his knowledge divinely and the Fool receives his knowledge through the "earth" or "mundane". Namaste-Anora


• United States
7 Jan 11
Vandana- This series is on the Tarot cards and the Magician marks card 1 in the Major Arcana. I agree that we do have those illusionists in society who do entertain us with tricks and illusions of the mind. However, I would say that this card is asking us to be aware of this possible illusion and avoid it. This card represents the true Theurgic arts and sciences. Namaste-Anora

• Bhubaneswar, India
6 Jan 11
Namaste Anora, I didnt get the complete idea, but yes, I find a couple of similarities with me and the two categories of the Magicians. I started out as the Brash Magician who is kind of intoxicated with ego, and the little knowledge that he has... Suffers and realizes the mistake (I know it is not the ego here, maybe some incidents or the quest of knowledge) he has done, and then evolves as a seasoned Magician. Today, I want to learn, and that is what interests me more, so I am into reading on Internet, learning and then trying out what I learn in real life and also in profession. I see myself open to learning each lesson out there and trying it out on my own first - so I fit in the manipulating elements aspects - trying to experiment and doing things correct or wrong - but learning from them to avoid mistakes from being repeated. But still I am unsure, if it is only the Magician here or something more beyond Regards theSids

• United States
7 Jan 11
Thesids- It is always good when we recognize that perhaps we may be rushing into something or not giving something the attention it deserves. I believe in life long learning, so I feel that we always have something to learn from any given situation. Namaste-Anora

• Indianapolis, Indiana
17 Apr 16
I think the Magician is both manipulating the elements and a co-creator of the Divine, after all he is the Magician! It is wonderful that we get to explore different peoples views and education when it comes to the Tarot! Each card tell so many different meanings, just sitting and studding the cards one at a time, and each and every time I find something new!