do you love cooking

Philippines
10 responses


• United States
21 Nov 06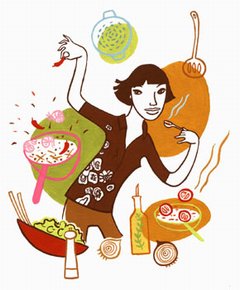 Yes.I love cooking.I am also good at it:) You have to cook as many times as possible,Not much people can cook at right away just reading a cooking book etc:) It took me for a while.I always liked to see how my mother cooks and I've started to learn from that then I moved in USA and wanted to eat something like what my mother was always cooking and I started to cook it because I wanted to eat something good and I couldn't find from where I lived. Now I live in NY and lots of things that you can actually buy from Japanese grocery store as "already made" but I've got this habit that I wanna make by myself so I usually cook every single day. Good luck!!

• United States
20 Nov 06
I like to cook but my boyfriend loves it. He cooks dinner most of the time. We watch the food network a lot. He is always trying something new. If you get the food channel maybe you should watch it to help you learn.

• United States
20 Nov 06
Yes, I love cooking. It's really fun! I love to plan out meals and menus! And I even love shopping for the ingredients. It's one of my favorite pastimes!

• India
20 Nov 06
i love cooking i like food which i made in my home