Arguement is the exchange of ignorance...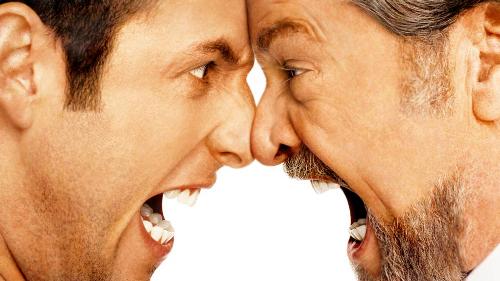 Singapore
June 12, 2012 12:48am CST
It is amazing how things happen the way they do. I was troubled by a slate of issues of late and have been seeking an answer for why things are happening the way they are when recently read a quote that is quite interesting, and kinda the answer that i was looking for. The quote went: [b]"The reason you don't understand me Edith is because I'm talkin' to you in English and you're listening in dingbat!"[/b] ~ Archie Bunker And it got me thinking... it is either i am the dingbat, or the other party is the dingbat. Either way, we are not communicating our feeling and points across clearly enough for everyone to see the big picture, or rather, the common goal. I am sure it has happened to us at one time or another. In such a situation, how do you take the dingbat out of the communication in order to share your point across so that both of you are looking at the same picture?
7 responses

• Philippines
12 Jun 12
Too much pride usually leads to argument. When no one wants to accept mistake, there goes the unending debate. There are also times that, arguments starts from petty things that is not worth debating- but maybe due to mood swing or bad temper. Even joyful event suddenly turn into a debate with just one word due to slip of the tongue or misheard :xx

• Malaysia
12 Jun 12
I find it is very tough to communicate to one another, especially to the closest person. There are many occasions when I speak to my husband about something which usually ends up to be another thing that I did not even thought of. When I am telling something that is so positive, eventually he will come out with something negative that spoil the whole mood. It is so difficult to control what he thinks and sometimes it is so hard to explain what I want him to comprehend. Can he just know what I want with just telling him in one sentence?

• Singapore
12 Jun 12
That is precisely because we assume that the other person knows us well enough to know what we want without considering his or her opinion. In other words, we are so comfortable with each other that we take the other person for granted. And they do like wise. I guess relearning communication is tougher for couples who have already spent much time with each other than for couples who just knew each other and are constantly exploring each other's tolerance towards things.

• Thiruvananthapuram, India
12 Jun 12
It is quite certain that arguments end nowhere and hence are exercises in futility. Each party involved in an argument would try to stick on to their particular notions no matter what the truth is holding.

• Singapore
16 Jun 12
haha, it's only a case of everybody wants to be heard and yet dun want to hear. Simple?

There's always such situations around, no matter where u go. There's no point in feeling troubled over it. Since there's no way to communicate, let actions do the talking on its own. If people refuse to listen, u can do nothing about it. Once twice is alright. BUt when it becomes unbearable, then let consequences and results talk to them. If they still dun learn, give up. haha



• Singapore
12 Jun 12
language, takes on the shape of the cultural background of the people. some times we are brought up so differently that it is hard to learn another 'language'. it is not easy to communicate with someone who has a deep-rooted belief that is totally different from you.

take for example religion, it's really a matter of belief and no amount of communication skills is going to help with the issue. similarly, some issues just cannot be clarified no matter how well one is able to communicate. there are times when i can totally understand what the other party is saying, but because i totally cannot accept the view, i can't see the big picture. in such cases, i don't think communication skills can help.

end of the day, it really depends on the motive of the person you are talking to. if he is motivated enough to help the project succeed, he will find a way to translate english to dingbat or vice versa.


• Canada
12 Jun 12
You need not be able to accept a view, to have empathy for another that has chosen that view as their own. Sometimes it is difficult, but just because I hate Muhammed and the way he came to be what he is, doesn't mean I am intolerant of all Islam. I can see it is a select view, who have chosen to narrow their focus, this does not mean I have to reduce myself to their level my narrowing my own focus. Though I do agree that sometimes it is really difficult to come to an understanding, it should never be out of our ability to come to understand another. Sincerely and With Appreciation.

• Singapore
13 Jun 12
this reminds me of a discussion with my friends. can't remember the exact topic we were discussing but it's something like this. we concluded that it's impossible to describe blue to the blind. it's not about accepting a view or understanding the other party's point. it's really like trying describe the colour blue to someone who is born blind.

CJscott, i do understand what you are saying. it's just that there are circumstances where it just doesn't work. i've been in situations where i try to explain certain things to someone but because of the background he had, he just couldn't get it.

ahgong, if we can master the skill to describe blue to the blind, we definitely are set for life!



• India
20 Jul 16
I do not agree. Without exchange of views, it is not possible to have information moving. There are different channels of information movements. Arguments are just one set. Though I tend to avoid them, I cannot deny the merits in them. I would state my views, as pleasantly as possible. If it does not affect me, my budget, my physical, mental, financial, and emotional health, or those of anybody I love or care for, I move on. At times, I might just step in to defend somebody who is being victimized.