Lunar Eclipse of 2013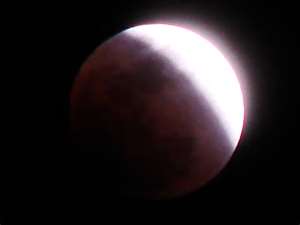 United States
April 24, 2013 3:01pm CST
The first lunar eclipse of 2013 will be occurring on April 25, at about 20:00 UT. The partial lunar eclipse will be visible to those in Europe, Africa, Asia, and Australia, but not to those in North America. Madagascar and East Africa will be the best places to observe from. Are you planning on watching it? I'm just hoping being so much in the city that the city lights don't ruin it for me. Read more at http://planetsave.com/2013/04/20/lunar-eclipse-on-april-25-2013-followed-by-solar-eclipse-on-may-10-2013/#BqT7P6G55iSXarjW.99
7 responses

• India
25 Apr 13
Guys carrying Libra sunsign should be carefull this year.......as the position of moon is moving into the Libra....

• India
25 Apr 13
Sadly, we in India have no chance to witness the Lunar Eclipse this time. Apart from the beliefs written in scriptures, it's a beautiful phenomenon taking place in the celestial world.

• United Kingdom
24 Apr 13
The last time I saw a lunar eclipse was the one back in 1999, my partner and I had gone down to the West Coast of England especially to see it, but it was such an anticlimax, it poured down with rain and the day was spoilt, it was over within a few minutes.

• Canada
25 Apr 13
Do they mean to say that that lunar eclipse will save the planet from disaster? Just being fastidious, but the title of the web page gave me that impression. I might see it on Tv. I will not be able to travel to a pace where it can be seen although I would like to go to Europe. And I have to get replacement items. I might also see it on You Tube.

• United States
24 Apr 13
Am I losing my mind? Didn't you say you live in Massachusetts? And isn't Massachusetts in North America? And doesn't it say it won't be visible in North America? How are you planning on seeing it?


• India
25 Apr 13
Thanks for information, i am waiting for it, see my discussion----- http://www.mylot.com/w/discussions/2766507.aspx?p=0

• Legaspi, Philippines
24 Apr 13
So that's gonna be several hours from now. Thank you for sharing this information. Maybe we could try to have a look as the weather is good. Have a great day!

• United States
26 Apr 13
I was all psyched to see this then I found out that it couldn't be viewed from N. America because of the timeing. I think I have seen one lunar eclipse in my life and now they say there will be a solar eclipse next month. I'm going to have to research it and find out if I will get to see it.

• Canada
24 Apr 13
Thank you for sharing this information! The last time I saw a lunar eclipse... it was probably a few years back and unfortunately I was the only one who saw it in my household because everyone else wanted to go to bed and sleep. I stayed up and watched it from the back porch and took pictures :). I also watched a satellite feed on-line and thoroughly enjoyed myself. I am quite saddened that I won't get to see this one though... because I live in North America. I wonder why people in North America aren't going to be able to see it? Maybe I will take a look out for it any ways!