ancestral house turned into a restaurant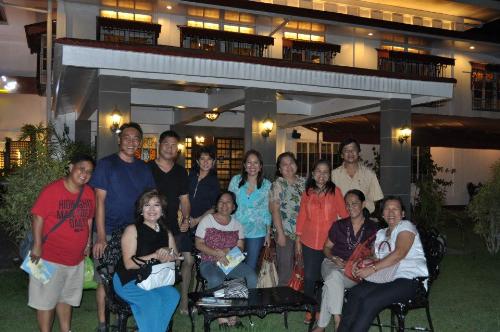 Philippines
April 26, 2013 10:29pm CST
My High School batchmates and i had dinner last April 16th. This is in honor of a batchmate who came from the US. We know she longed fro the Philippine and Bicolana dishes so we chose a restaurant that serves them. And the ambiance was really homey, because it was actually an ancestral house of an affluent clan. The main restaurant was on the second floor, where a stair with intricate balustrade leads to it. It is made of wood that was preserved over how many decades. It is in the middle of a lawn so vast and a garden so nice. See for yourself a picture that speaks of its nice ambiance. From my posts at Bubblews ; rebel_woman06
7 responses

• Philippines
27 Apr 13
There's a lot of ancestral house turned into resto here in the Philippines. The one I used to frequently go is CAfe Isabel. They serve 57 different kinds of coffee. Superb. The cakes are deliicous, not sweet and very affordable. For main dishes, they serve Italian and Filipino cuisine. Oh I miss Cafe Isabel. There is also one in Legaspi City and Baguio. The ambience is good and very nostalgic.

• Philippines
27 Apr 13
Yes, the Philippines has lots of ancestral houses turned into restaurants of cafes. The ambience adds to the nice feeling we have as we patronize these restos.

• Philippines
27 Apr 13
The last time I was at Cafe Ysabel, I was pretty unimpressed by the food. The place is nice though. There's one in Baguio called Cafe By The Ruins. There's also another one in Quezon City called 77 Cafe. It's on the corner of Kamuning Road and Scout Ybardolaza. It's known more as a bar that musicians and artists hang out in but the food is excellent!

• Philippines
27 Apr 13
Secondary to the delicious food, is the ambiance. And these ancestral houses gives a good ambiance.


• Philippines
29 Apr 13
This is in Daraga, Albay here in the Bicol region. Actually there are other pictures on this post, but it's on my posts at Bubblews.

• Philippines
27 Apr 13
I see a lot of these things in cities these days. It seems that old houses are becoming restaurants. It's really nice to see these old houses because they have great ambiance. However, I sometimes wonder how the owners of these places felt when they decided to make their family home a business location. I guess it would have been sad. But still, if it's properly preserved then I guess it's unique. How was the food? Have a great mylot experience ahead!

• Philippines
27 Apr 13
I guess, they have same thing in Ilocos, Luzon. Such ancestral house turned into business restaurant is actually nice to dine in. What I usually observed is that these ancestral houses that had been made into restaurant or an office, though improved a little bit must still bear some touch of antiques to really have a sense of preservation of our ancestors properties.

• Philippines
29 Apr 13
Well, yes they preserved most of the antiquity of the house. But somehow they incorporated some modern things in it and the result is very nice. For me, it's nice to see antique houses, but i think they also have to cope with the demand of the modern times.


• Philippines
29 Apr 13
Very well said and i totally agree with you. Rather than preserving it without a monetary return , then might as well turn it into business where people could admire the place and the house and earn money too.

• India
27 Apr 13
Ancestral property is a show case of your heritage and culture. They should be left like a antique property instead of making them restaurants or hotels.There comes a time when we do not have any ancestral properties and filled with new constructions everywhere.

• Philippines
29 Apr 13
Making them into restaurants makes the house more preserved and cared for. Rather than not paying attention to it, because no one lives there anymore, i think this move is also a way of preserving the antiquity of the house.

• Philippines
27 Apr 13
I never seen an ancestral house turned into a resto but I want to experience and see one

Having a dinner with your batchmates is really fun, I know you all missed each other. Dinner with a nice ambiance is so relaxing. I know you enjoyed your time with your batchmates.


• Philippines
27 Apr 13
Isn't there one in your province or city Kmz? I guess, in your place everything is already modern houses. Try one and feel the nice ambiance.