Birds too worship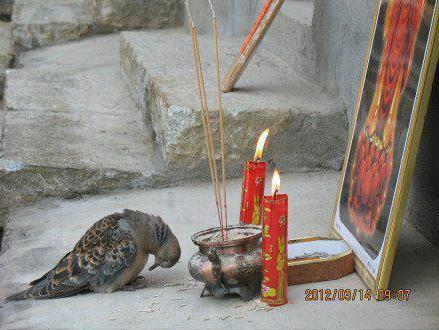 India
April 27, 2013 3:48am CST
We Hindus believe on rebirth, human form of life is the best and difficult to achieve. When we die the soul emerges from body and before rebirth it has to wander for many years depending upon past karma; next it may reborn as bird, animal, reptile and even germs.

I have seen birds, monkeys, snakes bending their head in front of idols in temples; in homes; see the picture of the bird I enclose here. [b]It is believed they pray asking for rebirth in a better form. All want a better life.

[/b] [b]Do you believe in rebirth? Have you seen any such bird, animal etc praying in places of worship, prayer like temples, churches, and mosques? Please respond comment.[/b] Thanks in advance. Professor Dr. Bhuwan Saraf. PhD. April 27. 2013. Cheers have a lucky day ahead
[/i][i]
8 responses

•
27 Apr 13
I haven't seen such act from animals, my philosophy is far from the Hindu, if our souls from our next birth will be placed in animals body probably animals will be so much wiser and they can do so much from expected from the capacity since they have the soul of former human life, I guess people just die and human life rebirth starts after a long time for another existence- different generations

• Seminole, Florida
24 Feb 15
@Professor2010
if you've seen other animals bow then please why don't you post pictures of them as well?

• Philippines
27 Apr 13
Hi Prof ! I have heard about this rebirth ! If there is a rebirth , i wanted to be a bird and not a reptile but our belief says that we if will die , we will be with our God that if we do all good things when we are still around. I am respecting your religious views.

• India
27 Apr 13
I honor your religion too, if there is no rebirth population will be effected Hey you will be born as an angel

lol


• India
27 Apr 13
Hello Sir,

I heard about the rebirth since my childhood and I neither believe nor refuse the same. Reason I don't have strong reasons to deny or accept. This is what I am hearing and learning from the beginning of my life. I really don't bother all these things and live my life and do my duties. Regarding the worship of animals and birds, I have never seen any birds do worship. But I happened to see elephants do the same with their tusk, just like human beings holding their hands together to pray or saying 'namaste'. But I am very much sure elephants are trained by human beings and they just obey the order of the person who looks after the elephant's need. So I haven't thought in that way, they are praying by their own. You may be right with your words; they are also God's creations and do prayers even though they can't communicate like human beings.


• India
27 Apr 13
Sree beti

Yes elephants are trained for show in circus

I go by my faith as hindu.


• India
27 Apr 13
Viju beti Yes lets do good to others, no harm, no hurt, that will make our karma good.

• India
27 Apr 13
I havent' seen any birds or reptiles worshipping and no have clue about reincarnation and rebirths. It all depends on human belief and the type of culture you live in. No matter whether rebirth exists or not, it's the duty of a man to do the best he can and never abuse, deceit or harm any one.That's the main essence of any religion.

• India
27 Apr 13
Welcome to mylot and my discussions, while i was in my son's home in your city Hyderabad, i went Sai temple, there i saw birds and one monkey in front of idol. Yes let's do our duty.

• Philippines
27 Apr 13
REBIRTH. Can't say I believe this or even don't believe it. In some part of my life I had a dream that I was a Chinese monk, a sea creature with a very beautiful mermaid wife and think may be this is my past life. So now I still searching that beautiful mermaid in a human form. that dream was happened when I was only 10 years old and now I am already 26 but still can't find her. wish me luck.

• India
27 Apr 13
Welcome to mylot and my discussions Thanks for details one day you may get her in human form, best of luck.

• Philippines
27 Apr 13
dearest professor, I like to believe in rebirth for all the souls who wanted to continue what they have left in this world. it would be so nice to be able to think and hope for that other phase knowing how wonderful life has been.
soul mates would wish there is a second life after the first, wont they?
birds have their ways of worship.. the picture is so beautiful. thank you for sharing. ann


• India
27 Apr 13
Honey


The very word 'soul-mate' is enough to prove rebirth.


• India
27 Apr 13
Dear Sir nice to see you post. Well I too have heard about rebirth, but I am not a believer of REBIRTH. I am not sure if to REBIRTH really exist. I have seen Monkeys praying to god at various pilgrimages in India. Though I doubt that, they really pray for rebirth. As a matter of fact do we human beings pray to god only to ask about rebirth. No right, so why to feel that animals and birds do the same. Regards, Roy

• India
27 Apr 13
I am better, just enjoying mylot I always thing they pray for better life.