Dog Crates - Let's call them what they are - Dog Cages.

Australia
March 4, 2016 6:16pm CST
With the pet industry worth billions worldwide, interested parties such as vets and entrepreneurs are constantly looking for new ways to part the loving pet owner and their money. One of the recent ideas is caging your dog. Cages were initially used for transporting show dogs but the idea was recently made popular for keeping a dog confined indoors. Many pet owners took up caging their dog because their breeder, vet, groomer recommended it. Of course they did. They probably sell the cages or can recommend someone who does. Many pet owners who cage their dogs will become defensive and argue with me and that's oK as they are entitled to their opinion as I am entitled to mine. All over the world zoos are eliminating the use of cages where possible. Cages are not natural and I agree.I'm also not in favour of dog spas or beauty treatments for dogs or dressing them up in ridiculous clothing.
7 responses

• Vancouver, Washington
7 Mar 16
The best thing I know of is the doggie hotel its a lot like the dogs have a little luxury.

• Vancouver, Washington
11 Mar 16
@MsTickle
I think that's why we do a lot of research to find a place that really does care about are pets.

• Malaysia
5 Mar 16
I agree with you, unless it's for the safety of the dogs, I don't think it's good to keep them in the cages. I used to put my dog in the "pet hotel" when I went for traveling, I could see how pitiful she was. As I was away for a few days, and no one else could help me taking care of her, so I had no choice. But, we always tried not to go too far away, and tried to bring her along as much as we could. I always like to say "Let the kids be the kids", I think this should be applied to pets as well, "Let the dog be the dog."


• United States
7 Mar 16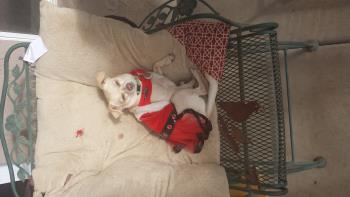 I see the benefit for crates in the SHORT term (ie: potty training, allowing new pets to get used to each other safely, etc), but people who use crates for life just to keep their dog caged up while they aren't home is wrong. And before I got my current dog I would have agreed with you about the dressing up. I used to think it was silly and why on Earth do you need to dress up your dog? But now...my spoiled little Tinkerbell LOVES getting dressed up. She gets so excited when I take down any of her clothes and when she has something on she prances around the house to show it off to everyone haha. Adding a picture of her favorite dress ;P Oh and we do have jackets for the little ones because they get cold so easily, but mine is the only one who has clothes for fashion purposes. Lol! But I say if it stressed a dog out to be dressed up don't do it!

• Boise, Idaho
5 Mar 16
I think we have to have our dogs in a carrier now if we have them in the back of trucks. They do have some crazy things for dogs now days.

• Boise, Idaho
6 Mar 16
@MsTickle
....Yes, that happens to me occasionally too. Just POOF!


• Rockingham, Australia
22 Apr 16
I wonder about this too but I've never really been a dog person so I don't say anything but it seems to me a bit bizarre, shutting a dog up in a cage indoors.

•
8 Mar 16
Hi, I was always very very Anty cage. I never used a cage for any of my dogs ( and still wouldn't force them to know ). However I was pet minding for a friend, and bein her dog - I stuck to her rules and caged her dig during the night. Quite to my surprise on the second night I found my bigs attempting to get into the cage too - and this haooened each night. I have since purchased my dogs their own cage - and although the door is never locked - they enjoy spending time in there at their own free will. I guess what we fail to remember is dogs are cave animals, a cage offeres them security. So yes..... I also hate cages, but if my dogs wish to use a cage - who am I to stop them x