Panic...What Panic?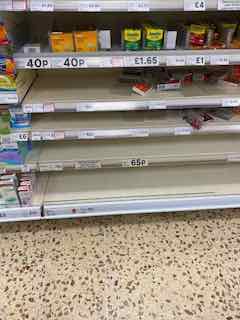 March 4, 2020 3:46pm CST
My city probably isn't the best place to get a headache. I've noticed what appears to be panic buying of sanitary items, especially hand sanitisers and headache medicines. No doubt other cities are experiencing the same thing, or maybe we are the only one.
9 responses


• St. Catharines, Ontario
7 Mar

• Guangzhou, China
5 Mar
In fact I think washing hands by a normal soap will be fine enough. Sometimes being panic for something is not reasonable. Here there are enough products in the supermarket and therefore people will not be in panic. I only found some kinds of sausages and bacons are not available in this moment and that's it. Supplies are fine.

• Chile
14 Mar
Doctor friends have told me that hand sanitizers are very bad for our skin.


• United States
5 Mar
I have seen friends photos on FB that are similar to this

- but it's not quite that bad here - yet. Here, I can definitely sense panic shopping going on, but I can still get most things fairly easily - and this is Los Angeles! But face masks are gone for sure.

• Bunbury, Australia
4 Mar
Australian shelves are out of toilet paper for starters. We bought up paracetamol and Nurofen in Nepal. They are really cheap there.

• Philippines
4 Mar
Also here, especially face mask which is almost out of stock in all pharmacy...



• Israel
3 Apr
@p1kef1sh
I read that others are experiencing things. I get my headache medicine and my other medicines at the pharmacy.