Agent Orange Time!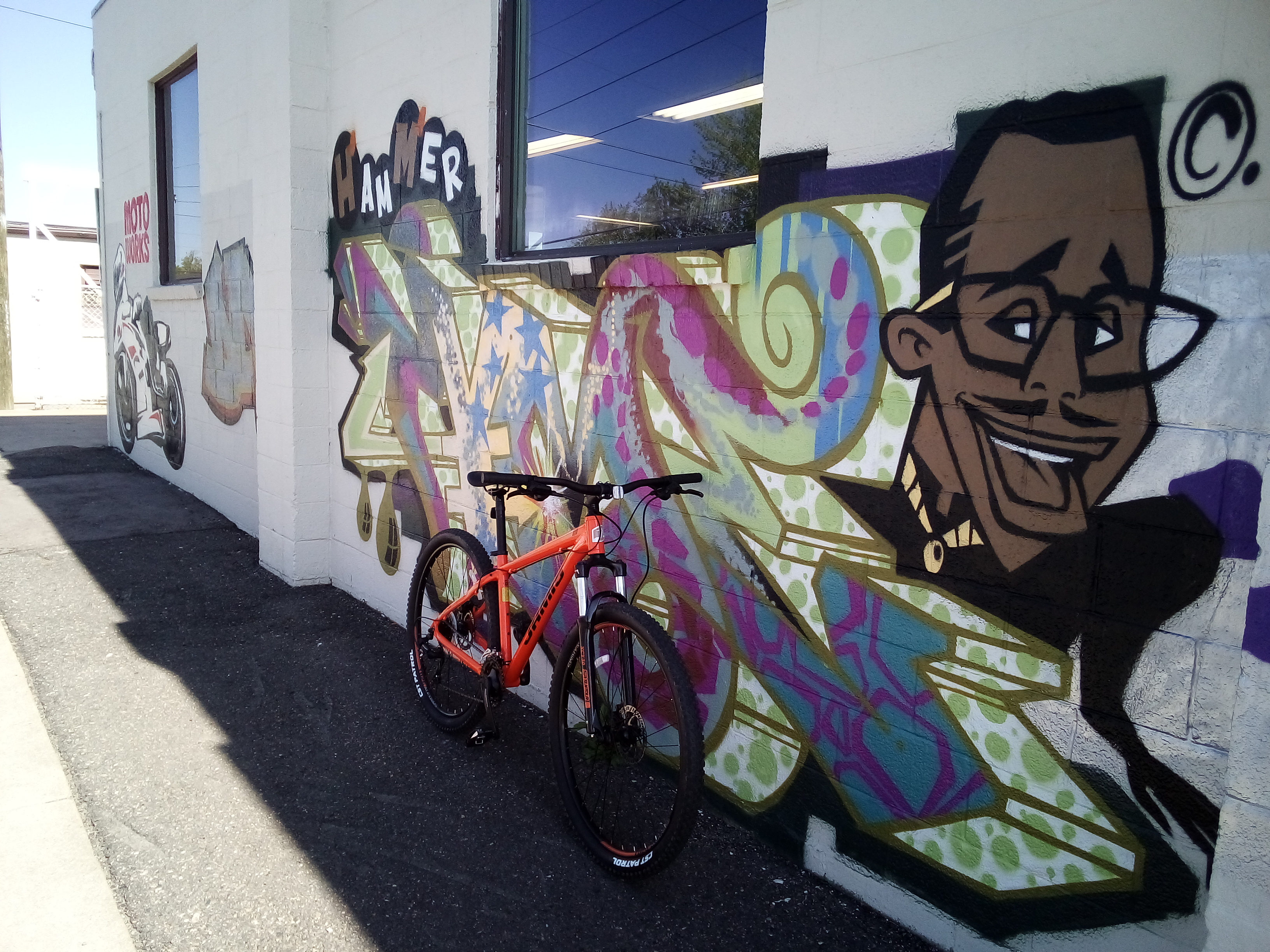 Denver, Colorado
May 11, 2020 9:25am CST
I've owned Agent Orange, my new mountain bike, exactly one week today, and considering I haven't been on a bike in about two years, I have been going on short rides to ride myself back into cycling shape. It's not just your lungs and legs, but your hands, wrists, shoulders, neck, and your butt all need to get used to riding again. I went eight miles yesterday, and took the first of many "Bike Lean" photos, which are pictures people take of their bikes leaning on stuff. This particular lean is of Agent Orange leaning on a mural of MC Hammer, which was painted on the wall of a motorcycle repair shop here in Denver. Hammer Time!
8 responses

• Redlands, California
11 May
Nice brother, my brother bought a Mountain Bike not to long ago, said he rode like 25 miles and I believe him. Told me where he went and have to admit that is some steep hills on top of 25 miles. Now is a great time for that kind of activity. Does indeed sound and look fun. Hope you have a good time with new Agent Orange.

• Denver, Colorado
11 May
I'm not quite back in 25-mile ride shape yet. That was only my fourth ride in the week I've had the bike. But I love 25 milers!

• Redlands, California
11 May
@teamfreak16
It does sound fun. Dammt mofo's going to make me buy a mountain bike.


• Denver, Colorado
12 May
@crossbones27
- It's a ton of fun. Especially when you get to do some actual mountain biking.

• Los Angeles, California
11 May
Time to crank up Queen's Bicycle Race!

• Denver, Colorado
11 May
If I find a mural of Freddie, you know I'm taking a picture!


• Denver, Colorado
11 May
I was doing a rowing machine at this little gym that does a weekly class for us vets. But they haven't opened back up yet, and when they do, I'll probably wait back awhile to see what happens with phase II.

• Agra, India
11 May
I love the color of your bike

•
11 May
Agent Orange. The orange color fits in well into the painting

• Denver, Colorado
11 May
It does look kind of cool in front of it!

• Bunbury, Australia
12 May
Nice street art/graffiti/whatever. I'm sure you're enjoying riding a bike again.

• Denver, Colorado
19 May
Yes, very much so. I went 13 miles today!

• United States
11 May
Are you sore or are your muscles saying, "Yeah, man, I remember this!!!"?

• Denver, Colorado
11 May
A bit of both. Muscle memory, but still a little sore. I definitely realized that I missed it.