Shark??? Nope.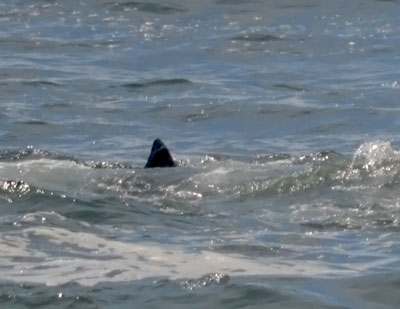 Newport, Oregon
June 29, 2020 2:03pm CST
When my wife and I do whale watch in the parks talking to visitors, we frequently here someone saying something about the sharks in the water, or in the reeds. And while there may be some nurse sharks, and a few other bottom swimming sharks that live in the area, this is not what most are seeing. Those sharks rarely breach the surface of the ocean. This may sound strange, but what you see in the picture, and what most visitors to this area think are sharks, is actually the tip of a whale's tale. Grey whales, turn on their sides to eat. (By the way, scientists have noticed that a large percentage of them prefer to turn their right side down.) In shallow water, their tail will often break the surface like you see in the photo. Because it does resemble a shark fin, this is called "sharking." When a whale is in close to shore, common here in Oregon, this is a frequent thing to see. I have seen one in water shallow enough that it had it's pectoral fin breaking the surface as well. So, at least here in Oregon, a fin breaking the surface is most likely a whale, except when it's not. In September, we do get great white sharks swimming in our waters. They do not tend to hang out here though. Photo is mine taken at Boiler Bay State Park.
7 responses


• Newport, Oregon
29 Jun
How cool. That would be a Humpback in the picture unless I miss my guess. We did take a trip out of Mass, a few years back and got up close to several Humpbacks. Great trip that was.

• Newport, Oregon
29 Jun
@UncleJoe
Yeah, I can imagine that was a fright. We had one come up under a whale watch boat here a couple of years ago. It lifted the boat partly out of the water before going back under. The boat was a smallish zodiac, and had only seven people aboard. The people on board were not all frightened. A couple leaned over the edge to take photos. I



• Newport, Oregon
29 Jun
There is no question that is what it looks like. And we suggest to the people if they see it again just watch. If it is a whale they will soon see a spout and that the whales and sharks do not normally hang out together.

• Newport, Oregon
29 Jun
@CarolDM
It is a lot of fun, especially when they are close. Here in Oregon, during the months of July August and September, the whales are close in to shore, a mere twenty feet out in some cases. So one doesn't even have to get on a boat to see them up close. At that close you can hear them breathe, but you do not want to be down wind of that spray because it is not a pleasant smell.


• Bunbury, Australia
30 Jun
I think seeing that would have our surfers out of the water in a flash. It does look like a shark fin.

• Newport, Oregon
30 Jun
When the surfers around here encounter a whale, it usually gives them quite a shock, but to date, there have been no issues with them. We don't really have much in the way of shark attacks like you folks down under do. I am aware of only one, several years ago and while the man lost a part of his surfboard, there were no injuries. (The man no longer surfs though. In fact, I was told that he ever went back into the water.)

• Bunbury, Australia
30 Jun
@cperry2
There was an interesting clip on some FB site or other. Someone with a drone filmed a shark swimming under and around surfers. They had no idea it was there but it can be clearly seen from the drone.

• Newport, Oregon
30 Jun
@JudyEv
I think that the whole idea of surfing is scary. These folks know sharks that attack humans are present in the ocean, and yet they paddle their boards out into the waves. I watched a documentary on Shark attacks that pointed out that from below the paddling surfers give the same silhouette as a sea lion swimming. I also believe that the surfers are so focused on the next wave coming in they fail to look at what might be right below them. Not sure how much they could see but usually several meters into the water is clear enough to get an idea. Our coast guard regularly flies a helicopter along our beaches, when they see a shark and surfers, they will warn the surfers. The news accounts of that quote the surfers as saying "We had no idea any sharks were in the area."


• United States
3 Jul
Uhm... do you ever stick your feet off the side of a boat and see if the sharks will trim your toenails for you? You never know, they might help you out with that.



• Newport, Oregon
3 Jul
No, I tend to stay off of boats altogether. I tend to get very sea sick. But even if I did go out on boats, they are too large to allow such pedicure options. Besides, we have very sharks that inhabit the upper water coloumn.

• United States
10h
@cperry2
I've been on boats but never on the ocean. Just on local lakes. I've never gotten sick from riding in a boat. Hmmm... you might see if the sharks are interested in giving you a pedicure while you go out in a canoe... I'd think the experience would be highly entertaining to anyone paddling along with you.



• Newport, Oregon
29 Jun
I am not aware of any other whale that does this but I would never say none. It is interesting to see. Especially when that is the first thing you see.