President Trump Isn't Going Anywhere...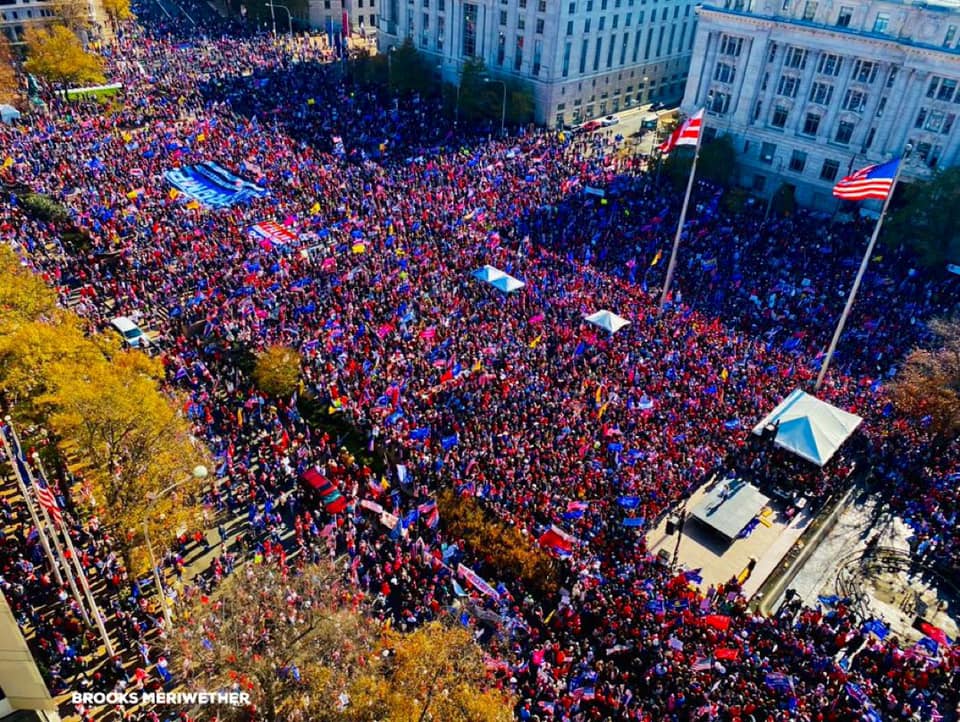 November 21, 2020 8:31am CST
He's on top of it all with the 75+ million people who voted for him for a second-term US Presidency 2020. To tell us to 'pack up our bags', 'close the book', 'there's nothing to see here' -- well, too bad, we ain't goin' anywhere basement-like bunkers.

White House press secretary joins 'Hannity' to discuss Friday's raucous news conference
10 responses

• United States
21 Nov
I saw a great marquee on a church the other day. It said, "No matter who is in the White House, Jesus is on the throne." That's all I care about.

•
21 Nov
@FourWalls
Between the two candidates, who would more likely believe that God is King of all kings, agrees with God about preserving life in the womb, and would allow your Christian voice be heard and gather (not lockdown) with fellow-believers in Jesus Christ? And also, who is likely to love and be a friend of Israel? That would be worth our lives considering and fighting for. But then again, it is in the King, Creator, God of the universe, to whom our trust and deliverance shall come from. Not in any leader.

• United States
21 Nov
@everwonderwhy
— God was God before there was a United States, and He will be God long after the United States ceases to exist. I wish that people who are believers would devote half the energy to sharing God's goodness that they have to the cult of Trump. When hearts are changed we can have all the legalized abortion in the world but the clinics will go out of business because no one will be using them. We tried to legislate morality in the 1920s with Prohibition. Not only did that fail, but we ended up with one of the most immoral, nihilistic decades in US history
and
the advent of the mob. I think a Christian's job is to convert souls to God, not to a political party. Just my .02's worth.


• Ireland
21 Nov
@everwonderwhy
What's Israel got to do with it? And I hear Joe goes to Church on a Sunday whereas Donny plays golf.


• Cambridge, England
21 Nov
I'm somewhat impressed to see such faith in adversity. There is not a shadow of doubt that in both the 2016 election and the 2020 election, the popular vote (as opposed to the Electoral College vote) shows that more people voted for the Democratic candidate than for the Republican candidate. 2016: Clinton (65.85m); Trump (62.98m) 2020: Biden (79.64m); Trump (73.66m) Those figures were taken from the statista.com website and you can verify them in any other reputable source. I don't know where you got your "75+ million" figure from, but it clearly wasn't a reputable source! I completely agree that if there is any question that an election was conducted improperly, it should be investigated by unbiased officials and I believe that this is being done and the results will be published in due course. If you want a good and (as far as I am aware) unbiased assessment of Trump's achievements and failures, you should read this::
https://www.businessinsider.com/trump-biggest-accomplishments-and-failures-heading-into-2020-2019-12?r=US&IR=T

• Staten Island, New York
21 Nov
This election was definitely rigged. They have to get to the bottom of this and uncover everything that's been going on. Otherwise, we can't trust the election process ever again. But the left and those that hate Trump don't believe that there has been any fraud, which is not true.

• Cambridge, England
21 Nov
@lovebuglena
I cannot believe that, if there were fraud (and I am pretty sure that there was some on both sides), it could amount to a margin of nearly 6 million votes. You have to remember that there was certainly pressure, coercion and political threats on Electoral College members to become 'faithless' in the 2016 election and two Republican members resigned rather than be forced to vote for Trump. There was clearly heavy manipulation at that level then and I am pretty sure that there will be again. You can be assured that most if not all of it will be from the Republican camp. If pressuring and political threatening of Electoral College members is not fraud, then I don't know what is!

•
22 Nov
Thanks,
@owlwings
That's why thorough investigations of allegations from both sides should be presented in the judicial process of the law. Both MUST be heard with proof and evidence. Whatever the result in the Court of Law and Order, is the better way to go about it. Dismissing the Republicans, Democrat-voters of Trump,
"go home, close the books, no-evidence of voter fraud, silent you maggots!"
legal voters isn't right and smart, is it? How is that fair and balance benefiting both sides-- lawfully?


• Philippines
21 Nov
Trump's claim that there is an election fraud is baseless for there's no evidence so far.

•
21 Nov
Yeah, that's what the maintream media have been saying. Their lawyers should do their intensive investigation themselves to prove Trump wrong about his claims. Don't you think?

• Staten Island, New York
21 Nov
There is evidence of fraud. Hundreds of sworn affidavits are evidence.


• Staten Island, New York
21 Nov
This election has been rigged. They have to keep on fighting to uncover and prove everything that's been going on. Regardless of who actually wins in the end, we need a just and fair election and this was not.

•
22 Nov
Your point of view on the matter is intelligent analysis. Not dismissive. Thank you.

• Chile
21 Nov
Your elections are very difficult as compared to those in my country. I don´t get it.


•
21 Nov
@marguicha
Thank you on behalf of the 75+ millions of friends out there.

• Chile
21 Nov
@everwonderwhy
Whatever happens, I hope it is all peaceful. That is what I expect from the other side of the planet.


• Singapore
23 Nov
As someone whom is legally trained, I hope to see more physical evidences before any conclusion. I do not want to have any biased thought or conclusion on whether the election is rigged or frauded. I am not condemning Trump or supporting his claims. It boiled down to evidences. Will just let the court handle this.

•
24 Dec
You are correct. But sadly, the courts have been turning a blind eye, turnung away from the Constitionality of the judicial process. There is always hope and light in the end if all this for the 75+million voters who are doing the right things provided by the Constitution.


•
22 Nov
It is good. It is good to investigate and allow room for questioning on both sides. Al Gore-Bush were honored with the respects of 37 days.

• Wapello, Iowa
21 Nov
75+ million? No. Even if you count all the Trump voters who voted 2 or more times, he only got 73,787,551 votes. Joe, on the other hand got 79,825,428. That was a YUGE loss. BUT you have Rudy on your side so I'm sure you'll get your four more years. Maybe not in the White House, it could be Sing Sing, Attica or Leavenworth but that does not matter and it might be way more than 4 years. It could be life! #MAGA


•
22 Nov
Yeah, and 75+million Trump-voters refuse to riot, loot, burn-down businesses, maniacally harass Biden's people-- because Trump-votes were stolen. Hmmm... I wonder if the tables were turned around. Oh, wait riots and anarchy have been going on for four years because they hate Trump, the country, they hate life and us, 'Maggots'.



• Wapello, Iowa
22 Nov
@everwonderwhy
All the violence has come from Trump supporters from day one. And, again, Trump fell well short of 75 million votes. Joe, on the other hand, has very close to 80 million. We do hate Trump but we love the country. That's why we are exterminating Conservatism.

•
23 Nov
@xander6464
Uhm.... not true. Kamala Harris goads leftists' riots, looting, anarchy. Research.


• United States
21 Nov
I saw film clips this morning -- he had a very positive transition and even thanked President and Mrs. Obama.

•
21 Nov
Would you share the link, here, please? Thank you.

•
21 Nov
I researched on DuckDuckGo images. January 20, 2016 images look good.

• United States
21 Nov
@everwonderwhy
I saw the film clips on CNN this morning. You can probably find them on YouTube.