Happy 4th of May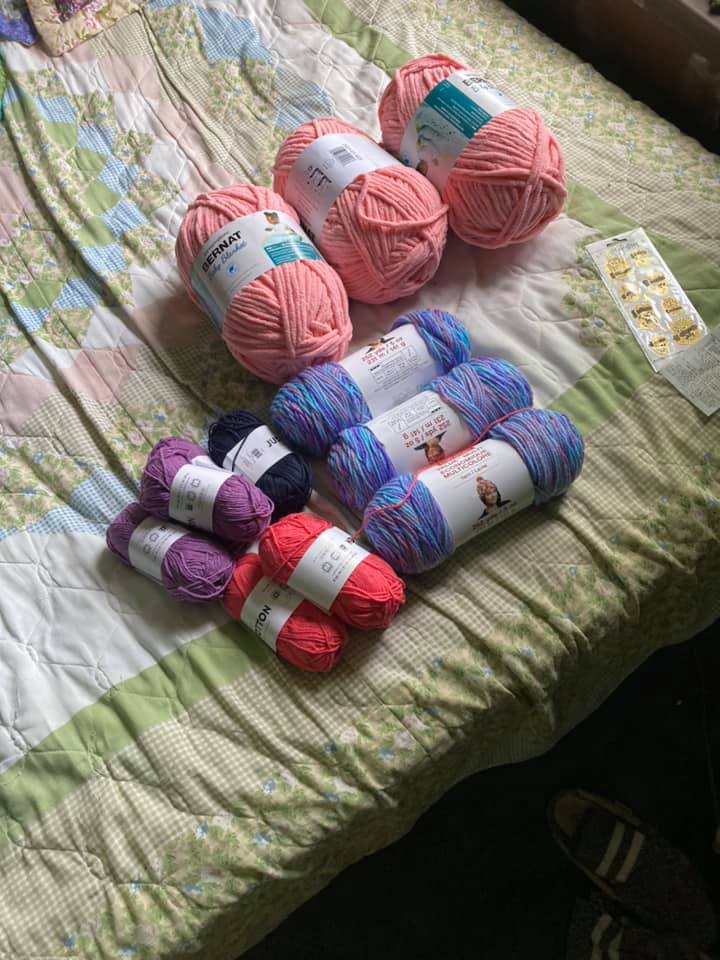 United States
May 4, 2021 10:02am CST
Tomorrow is Cinco De Mayo. To celebrate, I am making Bacon Cheeseburger casserole.

I didn't really think about it being Cinco De Mayo when i went shopping this morning.

I went to a different dollar tree this morning. This one doesn't always have everything I need and so I don't often go to it. However, it's also conveniently located in the same shopping center as Michael's crafts and near to Hobby Lobby craft store. I only went to Michael's though. The yarn haul you see includes some yarn from dollar tree (the premier cotton on the left). The Bernat Baby Blanket was (big pinkish yarn) was in a bin for $5.00. I had to get them to price check it and well, that was a little more difficult than it needed to be but I got it for the $5.00. What are you doing on this Tuesday?
10 responses

• United States
4 May
I am doing well...You are right it will be Cinco De Mayo tomorrow, and I will be out and about weather permitting. maybe I will try to score cheap nachos or a margarita somewhere. I saw that yarn for a buck at Dollar Tree seemed like a good deal. I bought clothespins for .88 at the store next door, and since have been looking at clothespin crafts.

• United States
4 May
88 cents is a good price for clothes pins. When I was at michael's today I saw a lady who was looking at number stickers for like $4.00. I told her that she should look at the dollar tree because they had all sorts of that same thing. She thanked me and a few minutes later left. I'll probably drink a seltzer tomorrow to celebrate.

• United States
4 May
@ScribbledAdNauseum
YOu should see all the neat clothespin wreaths they have. I may have to try my hand...also there is a great one you can make with straws.

• United States
4 May
@snowy22315
I don't think I've seen the one made with straws. I just used bing to find pictures of them and they look cool. Makes me think of the starburst pattern.


• Nairobi, Kenya
4 May
I was out to pray and listen to some rapture videos on YouTube. My day was well spent. You can share the photo of the bacon cheese burger

• United States
4 May
Tomorrow, if I remember to take a picture of it, I will. It sounds like you had a great day.

• Nairobi, Kenya
4 May

• United States
4 May
@mildredtabitha
Thank You. It will be late in the evening, or perhaps the next morning. I like to shut my computer down by 5 pm most days.


• Onaway, Michigan
4 May
Like it all especially the pink yarn. Today I am doing a load of laundry and mylotting and my other sites as well.

• United States
4 May
I need to start a load of laundry myself. I just got home so I'm just starting the majority of my sites too. I'm thinking of making a sun hat out of the corral.

• Onaway, Michigan
4 May

• United States
4 May
@Tina30219
That's awesome. Hope you enjoy the rest of the dya.


• Los Angeles, California
4 May
I am going to make tacos and guacamole tomorrow (it wasn't planned actually - I just happen to have stuff for a Mexi meal). You are lucky to have all those stores near each other. Those yarn colors are so pretty! Right now the kids are in virtual class . . . later we have to figure out what to do for teacher appreciation week. Otherwise, I'm continuing to do things that need to be done around here.

• United States
4 May
I actually looked at the guac today and though about buying some, but didn't. I didn't even realize it was Cinco De Mayo tomorrow until I got home. Oh yes, and these stores are technically within walking distance if I want to cross a busy road to get to them. Might actually do that one early morning, we'll see. That's gotta be a tough one, figuring out how to say thanks to the teachers when it's not easy to see them.

• Los Angeles, California
4 May
@ScribbledAdNauseum
Would you be willing to go out to the stores again - later today or tomorrow? Usually the stores have those displays up early where they remind you of the celebrations coming up, but since I don't go all the time anymore, I don't see them in time anymore. Walking distance - that's a dream for us! We have the stores, but have to drive to them all . . . they finally opened a HL closer to us but it's still a somewhat long drive. It's hard too because we won't be able to go "in" the school (have to be covid tested and verified, etc etc) . . . I might even have to make an appointment just to go into the office to deliver any gifts. The things we have to do these days

.

• United States
4 May
@much2say
I know everyone will be glad when we can return to the way things were pre-covid. I know some things will change and stay that way, but I'm sure the school administrators and the such are all ready to be back in the building with the bustle of many children around them. I don't think I'll go to the store again until Saturday when I'm going to go antiquing with friends. I might go to the thrift store tomorrow, but I haven't fully decided yet. I meant to do that today but didn't feel like it after all the other running around I did.

• United States
4 May
Talking and playing on myLot, talking to a job recruiter online, talking with a person at Workforce in Joplin online... Oh, and eating some brownies Pretty cooked this morning. Would you like a brownie? They are still warm from the oven, chocolaty and gooey... YUM!

• United States
4 May
Workforce is that like, oh what is it called? We have several places actually that are supposed to help with job training, finding jobs. THe one I am thinking of you go (or you used to go) into their center and use their computer to fill out applications. It was it's own database. Dollar Tree is hiring here. I think both of them. No thanks, I bought some Halo Top Ice Cream Bars today. I do love a gooey brownie. I take them out a few minutes before time on box.

• United States
4 May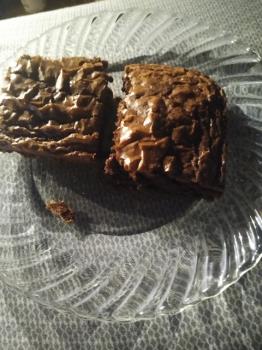 @ScribbledAdNauseum
Job Service? Yes, Workforce takes care of over-flow from Job Service, only they don't try to make you fill out applications while they answer your questions. I had trouble filling out the weekly request for payment so called a friend at Workforce to help me. (I still don't want a job, just the money for... pretending to look for a job.

) Here, Dollar Tree only pays $9 an hour to start. When I go back to work in six or eight months, if the pandemic is over that quickly, I'll want more than that per hour. I'll still share. Brownies. Photo is mine.

• United States
4 May
@DaddyEvil
Oh yummy, those look good. I'll take a corner piece please. Ohhhh, job force.. Right sorry, my brain... I'm not sure what they pay here. I know the paper said (they have a table set up by the door) but I didn't pay it much mind.



• United States
4 May
We just had a real zinger of one earlier. Rain clouds just came over us and I knew they were rearing to burst. Family reported hail their way (a few miles South of us).

• United States
4 May

• United States
4 May
@CarolDM
I think Wednesday is supposed to be another very bad day too.


• United States
5 May
Another yarn score! Nothing going on here.

• United States
5 May
Yep and I hope to find more on my outing this weekend. We'll just have to see. Today is shaping up to be a half do nothing day. I do need to attend to some things, but I'm trying to take it easy too.

• United States
6 May

• United States
7 May
@LindaOHio
I did, and today was an impromptu one too since the internet and cable were down.


• Serbia
4 May
Oh, I like the colors of the yarn.


• United States
4 May
I forgot to add two others I bought at another store. They are dusky pink / rose color. I want to make a hat with them.

• Serbia
6 May
@ScribbledAdNauseum
I think it will be a beautiful hat.


• United States
7 May
@Nevena83
I need to make it, but I also want to make it with a different color. I tried doing a magic circle with the yarn but the yarn is too thin for me to do it with. I will have to use a different method. I have too many crochet projects going on.


• United States
4 May
Well that's good. Isn't this an in school day?

• United States
4 May
@ScribbledAdNauseum
The coworker who has been driving me to/from work had to take a sick day so I had no way to get to work. I took a personal day.

• United States
4 May
@NJChicaa
Ah well. Sorry they were sick and you ended up having to take a personal day.

• United States
4 May
Everything known to man I am doing this Tuesday..nice yarn there Amber. Have a lovely day now

• United States
4 May
I hope you are giving yourself time to rest too.