Have you tried Shrimp Rigatoni?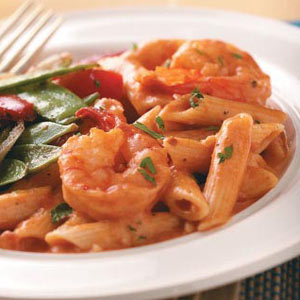 Germany
June 11, 2021 3:03am CST
Hello

Good Morning/Afternoon/Evening to all my dear mylotters

I woke up in a very nice weather. Sunny and warm. I had a great morning walk and later will have a video exercise with my mother. She is really in the mood for this video dancing exercise together. She said it gives her motivation to have an exercise. I love it too.

Anyways, today is Friday and my day off with cooking but we will be ordering Some Pizza and this Shrimp Rigatoni pasta with creamy red sauce. The taste is really good. We always order it.

How about you my dear mylotters? Have you tried this Shrimp Rigatoni? What pasta do you like? What are you having for today?

I hope you can share it with me here

Have a great day and Happy mylotting

Photo: google
10 responses


• Germany
11 Jun
I like fettuccine too but it is not available at the restaurant we ordered only the ordinary spaghetti noodles or rigatoni. Thank you



• Switzerland
11 Jun
@m_audrey6788
Rigatoni are very good, I always have rigatoni at home.

• Thane, India
11 Jun
It looks so yummy. Enjoy it. Have a good day



• Redlands, California
11 Jun
I have not but my old boss made this amazing shrimp salad my sister damn near starting crying how good it was. Just kidding but in car she goes oh my god that was so good and never had anything like it. Funny thing he lived in trailer and she thought tailor trash. Never judge a book. Also Yeah America you made one of the coolest bosses ever live in trailer with his wife and three kids and he worried every day about if could take care of them because of your stupid capitalistic system and he was an amazing guy who deserved much better. My bad, I will stop.

I am not sorry though.

• Germany
11 Jun
Your old boss is a good cook. That`s great. Thank you



• Redlands, California
11 Jun
@m_audrey6788
He made amazing salads not sure how he did anything but he definitely had a taste and his taste was good.

• Germany
11 Jun
@crossbones27
That`s amazing. I think your boss is preparing that many times



• Philippines
11 Jun
Looks good... Here, usually pasta and meat or hotdogs...

• Germany
11 Jun
You can try this sometimes. Thank you



• Philippines
11 Jun

• United States
11 Jun
it's nice that you and your mom can do that exercise together. shrimp and rigatoni is delicious and yes I've enjoyed it.

• Germany
11 Jun
Yes. My mom is the one that gives me motivation to do some exercise. It is fun

Wow! That`s great. Glad that you like it too. Thank you



• India
11 Jun
Wow that's looking so yummy , but don't know about the dish. I like shrimps so I can try..

• Germany
11 Jun
It is in creamy tomato sauce. It is really tasty and delicious. Thank you