Drawers are done for what was in the shipment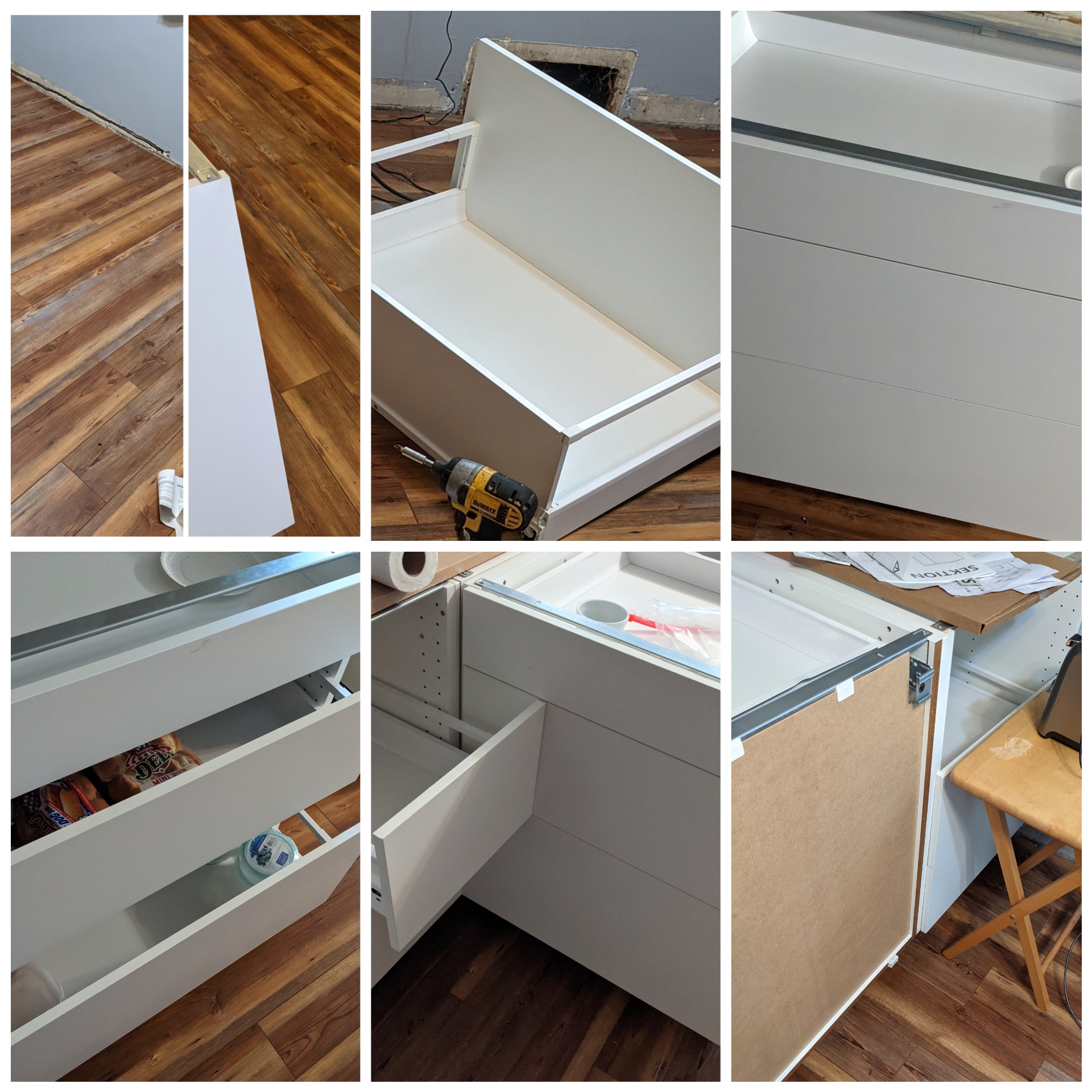 Midland, Michigan
October 13, 2021 8:26am CST
I'm including a pic of the flooring in the kitchen and dinette along with most of the drawer configurations. I ordered knowing seven drawers would be missing as they weren't in stock. I'm hoping they'll be in stock at their store so we can finish the project. I have two views, the outside and with the drawers partially open of one set. The corner set is snug for opening but when the handles are attached it might be ok. Then there's a cabinet on the back. There are two small cabinets in either side of the stove, pic not included for those. I started loading the drawers but will have to pull things out when the trim boards are attached later when they return again. That may not be until the sink is ready to be installed into the laminate countertop Nope just remembered the trim boards need to go on before the countertop is installed. Added info: I found out today that the store in Michigan has enough of the drawer fronts that we still need. We'll pick them up the end of the month.
7 responses

• Montrose, Scotland
14 Oct
You really.are making progress. Impressive

• Midland, Michigan
14 Oct
We're going to Lowes sometime today to order our countertop and see how far behind they are for installation.

• Montrose, Scotland
14 Oct

• Midland, Michigan
16 Oct
@JimBo452020
it went well but it'll still take weight weeks before it's installed which is the time needed to work on it. It doesn't sound like they are behind at all

• United States
13 Oct
It's all coming along nicely Marsha


• Midland, Michigan
13 Oct
I still shouldn't unpack my boxes too fast because the workers will need to access certain drawers to our up the trim boards and the drawer fronts that are left. I'm praying they'll have them in stock there or it may be even longer before we get our countertop put in. But it will be faster than one last had when her project began before COVID first hour. She had to wait six months for her countertop. She was able to eat at home though.

• United States
13 Oct
@MarshaMusselman
it will all be worth the hassle once it's finished but it's hard not to get crazy when it takes so long to get the kitchen finished. I hope the countertop is in stock and you'll keep moving along at a steady pace.

• Midland, Michigan
13 Oct
@Marilynda1225
we picked out one of four colors that are usually stocked in different sizes . That might be ready before we are. My husband is tired of what he's eating but could nuke hot dogs to carry his diet but he's stubborn and won't

• Green Bay, Wisconsin
21 Oct
Looking good. I'm glad the store has them in stock so you can finish the project.

• Midland, Michigan
21 Oct
It will still be awhile before it's finished because the workers dropped all r their other jobs to try to get my drawers done. I'm putting minimal things in my cabinets at present in case I need to remove it later in for the finishing touches. Next week someone is coming to measure our countertops and it could be another two months before we have full use of our kitchen.

• Green Bay, Wisconsin
3h
@MarshaMusselman
I hope it won't take that long. I know you'll be happy when it's finished.

• Midland, Michigan
16 Oct
Yes especially since the corner island cabinets need to be taken apart and redone a bit

• Wheat Ridge, Colorado
13 Oct
Its coming along beauitifully Marsha.

• Midland, Michigan
13 Oct
I'm able to begin putting things into several of the drawers as I have time which is nice.

• United States
13 Oct
Did you by chance order from Ikea? My son is waiting on cabinet parts from them...it's been over 2 months. Good luck!

• Midland, Michigan
13 Oct
We ordered in July and got the shipment in September. Yes it's Ikea.