Alice and Lilly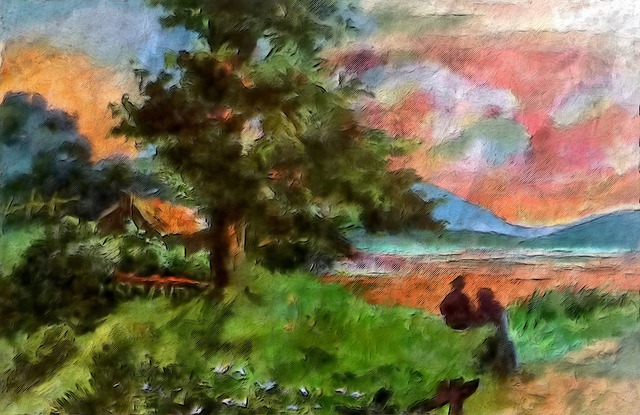 United States
November 24, 2021 11:08am CST
Hi MyLotters, I was so touched by the interest in my dad's distant cousin, Albert's story that I decided to write also about his sisters, Alice and Lilly and what my dad could remember of them. They we distant cousins on his mom's side - and were much older than my dad, being as they were likely born around the turn of 1900. Lilly was Albert's sister - and she was a surgical nurse. Perhaps the most interesting part of that is who she worked with - the original Mayo brothers. There is something called the Mayo clinic in this state - it's quite famous for state of the art procedures with patients coming from around the globe sometimes. Lilly's tragedy was that her beaux was killed in WWI. She never found anyone else. Her brother, Albert also served in WWI but he came home. Perhaps the most tragic was Alice, who, as a young lady came home from teaching school - to find their dad after he committed suicide. From there until most of her life she was mentally unstable. Dad said that she usually wasn't home - lived at an asylum. But occasionally she would be home for a weekend - and my dad as a young man ventured into her room. She crept up behind him and shrieked "hello" in a high pitched voice, which made a big impression on my dad since it had scared him as a little boy. Much later in life, Alice, in her 80s returned to "normal", able to function in society, but how sad she couldn't live and enjoy her life normally due to the trauma she saw. I wrote about their brother, Albert, in an earlier post, if you'd like to read about him - click my "AlbertLillyAlice" tag and it should come right up. Thanks to @xander6464 for the inspiration, he inspires lots of interesting topics. Photo: Pixabay user Vinsky
10 responses

• United States
25 Nov
Thank you again, for a very interesting story... I often wonder about the stories of a "lost love" and the person never moving on. I'm sure they would have had a happy marriage if they hadn't lost "the love of their life", but many people do lose their love and go on to find another. I wonder if she grieved so deeply that nobody caught her attention again?

• United States
25 Nov
Thanks for reading. That's interesting. I wonder the same. Was she just so in love with the young man that the thought of being with anyone else didn't appeal to her? Or was she like her brother, Albert - and meeting people was difficult? I think we all have a number of people that are "soul mates" or that would make us happy in a romantic sense... not just 1...

• United States
25 Nov
@FayeHazel
I push myself to meet people in real life because I'm actually an introvert and yet, I've come across two people who were the love of my life... and lost both of them. I'm not looking and don't plan on ever getting married ever again. (vanny is the exception. If she needs me, I'll be there and marry her. I don't want her stuck in a life she doesn't want. At least she'd be safe with me. We could get married and she could go back to India and do whatever she wants and just tell people her husband allows it.)

• United States
27 Nov
@DaddyEvil
Me too - when we're not in a pandemic lol. Eeeek. But yes, I'm introverted too, and it's hard. I'm sorry it didn't work out with the previous 2 you found. If it isn't too personal - what do you think it was? The reason it didn't work? Do people change? Does life and it's circumstances change people? Or is it a case of discovering more and more about a person and then them not being who you thought they were? Please don't feel like you have to answer. Recently I had something like that happen. Hit it off with a guy over the phone. He's local and all, and we did meet up a handful of times this summer. I REALLY felt a deep connection with this guy. It was almost magical. We felt the same on a number of issues. We connected with how we look at the world. It felt like magic just talking to him. He told me I was beautiful, that I was the "only one", that we were soulmates and that we were bonding and soon he would be able to pay more attention to me he promised. He begged me to be patient with him and confided that he was still hurt from his divorce (4 years ago), and had reservations about anyone wanting to ever be with him again due to his unusual line of work and it's unusual hours. (Local celebrity). All of those things we just a sample of all the flowery things he would say. We would talk into the wee hours. Well, this summer he got more and more distant, sharp with me, and then I noticed some chick blowing up his social media. I confronted him. He said I must have misread him. He never meant anything beyond just a friend. (Telling me to prepare for him spending the night doesn't sound like just friends, but.... whatever ... that's just me I guess.) A person shouldn't just throw around comments like that then. I would never do that someone. It's only going to hurt feelings and split up friendships. Anyway, I forget why brought that up. But it's hard when you think you found someone with a special connection and then...... nope. For whatever reason nope..... I'm happy you would rescue Vanny. I feel for those that for one reason or another are not left to choose their own fate


• United States
25 Nov
That is so sad about Alice. But trauma can do that of course. That's neat about the mayo brothers and lilly.

• United States
25 Nov
I wish they had better interventions at the time for Alice... but it made me happy dad said she got to come home some weekends. It's pretty cool - I know I could never do healthcare.

• United States
25 Nov
@FayeHazel
thankfully things have improved. Though doubt by TOO much

• United States
27 Nov
@Courtlynn
I think you're probably pretty right. Now it's probably more like "here, take a pill"


• Philippines
24 Nov
Very interesting but I can't imagine returning to " normal " when you are 80 years old.

• United States
25 Nov
So true. I remember asking dad about that. He remembered her being out of her mind as a little boy, - when he visited them as an adult he said she had very coherent discussions and was a fan of the local baseball team. I guess Lillie had said that she just woke up one day and was fine....

• Philippines
27 Nov
@FayeHazel
not to make fun of it but it's worst than Rip Van Winkle who just only slept for 20 years and finding out everything has changed, this is so much longer, wonder how it felt.

• United States
27 Nov
@louievill
Oh yes, I understand what you mean there... I know it perplexed me as a child hearing about it. So I would ask dad - did Alice know what had happened during all those years? He said he wasn't sure - he said that she seemed to know who people were when she was back to normal - distant family and so on. She apparently knew baseball too... Poor lady. I hope at least the last years of her life were pleasant

• Zagreb, Croatia (Hrvatska)
24 Nov
people before were very educated, more than we are and, skilled

poor alice.

• United States
25 Nov
I think you're right. And standards were higher I feel for passing academic tests and so on. And it was more affordable for people. Ah yes. Poor lady, I hope she did enjoy her latter years at least

• Zagreb, Croatia (Hrvatska)
26 Nov
@FayeHazel
yes, the difference is it was affordable. i hope she did too.


• United States
25 Nov
It would have been helpful, I wonder what would have been done differently had it have happened now vs. then (probably the 19teens)

• Rockingham, Australia
25 Nov
Some of our ancestors have such interesting stories. How sad that so many die with the people.

• United States
25 Nov
So true. That really bothers me. Sometimes I wonder too, was there someone in my lineage that was really just like me? How did they turn out


• United States
25 Nov
Thanks! I also wrote about their brother, Albert - it's in the green tag at the top "AlbertLillyAlice" - should bring it right up if you're interested. I know my dad would talk about them and they always fascinated me as a kid

• United States
24 Nov
What interesting stories. Sad about poor Alice, though.

• United States
25 Nov
So true. I was happy that at least she could be home part of the time. I often wondered what exact diagnosis she had

• Wapello, Iowa
25 Nov
It is sad about Alice...How one tragic event can shatter an entire life. Do you have any of the Mayo Clinic stories?

• United States
25 Nov
So true. Dad said that she was the smartest of the bunch of them, too. Alas, no, but I do actually have a carnival glass dish that was hers - a gift from a person she took care of as a nurse

• Wapello, Iowa
25 Nov
@FayeHazel
It would be better if it came with a bunch of stories but still, it's a great souvenir.

• United States
26 Nov
@xander6464
Actually, I was mistaken. The dish I had wasn't Lillie's. It's older. My Greatgrandma's mom (I think that's it) was a nurse and the dish was payment for taking care of someone.