Yesterday's weather in review 1-14

United States
January 15, 2022 8:22am CST
Another one of those let's go for an end-of-day walk. I reached the long north-facing section of the walk just as the wind started to blow. Not a nice, pick the leaves up and move them to your neighbor's wind. But a suck the warmth out of you and freeze the air kind of cold north wind. yuck winter is coming how was the weather in your world?

AboutPressCopyrightContact usCreatorsAdvertiseDevelopersTermsPrivacyPolicy & SafetyHow YouTube worksTest new features© 2022 Google LLC
7 responses

• United States
19h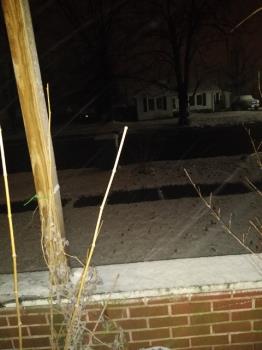 It was partly cloudy but warm-ish day here at 48F until late in the afternoon when it started to sprinkle and cool down. Around 9 pm it was raining slow but steady and the temp was still dropping... At 3 am, I got up to go to the restroom and decided to look outside. My front yard at 3 am. Photo is mine.

• United States
13h
ah mom E dropped some solid love on ya

• United States
13h
@DocAndersen
Yeah, she and I had a heart-to-heart talk last night. She assured me she loves me best.

• United States
13h
@DaddyEvil
well we will find out around 8 pm tomorrow if in fact that is true


• Nashville, Tennessee
13h

• United States
14h
It was 33 and mostly cloudy. 64 days until spring. It was actually still light at 5:30 pm.

• United States
13h
i went for my walk today - it was cold, just cold

• United States
13h
@DocAndersen
We were going to go to Red Lobster today; but I didn't feel like getting chilled. I hate the cold.

• Nairobi, Kenya
17h
We had rain this Saturday evening for the first time in January

• United States
13h
that is good - rain is very important!

• United States
18h
Well, it was a standard kind of day…. They ask me how I knew The blue sky was blue Ahhhhhhhhhh Of course said "I don't know With clouds from head to toe You must realize Fog gets in your eyes

Smoke Gets In Your Eyes (Harbach-Kern) by The Platters, orchestra conducted by David CarrollChart-topping revival by Tony Williams and the group of the Jerom...

• United States
13h
no fog here, it would have frozen into a fog sheet

• Roseburg, Oregon
3h
No wind here but it is cold and will rain for a few more months. I love the rain.

• El Paso, Texas
12h
To me there are 2 very bad kinds of wind, one is like you're describing and the other is the hot sandy kind that can make the back of your legs sting if you're wearing shorts and gets into your ears, nose, mouth and eyes unless you cover them up.