I made tofu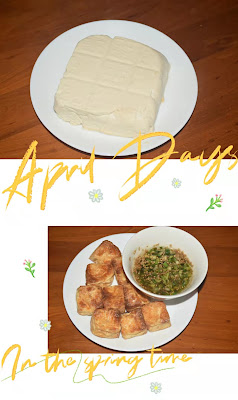 Guangzhou, China
April 29, 2022 6:14am CST
Some foreigners may not be interested in tofu which is a food made from soy bean. But it is one of the common food here. We have many soy bean products and tofu is one of them. Yesterday I even challenged to make tofu since I have the high speed blender and I also bought the tofu mould. So it is not difficult for me anyway. Perhaps it doesn't look very perfect like from the store, but when I cooked it with air fryer, then it looked great and also tasted well. The photo can't tell a lie

9 responses

• United States
29 Apr
A lot of people eat tofu in the US but I don't think I've ever eaten it. (Sometimes Pretty "sneaks" foods she thinks I should be eating into stuff to see if I like it or not, so I can't guarantee I haven't eaten it but if I have, I didn't know it.

) Delicious foods made at home usually don't look like the same food made in a factory. Homemade usually tastes better than factory made foods.

• United States
30 Apr
@youless
But cheese isn't that expensive. Why use tofu?

• Guangzhou, China
1 May
@DaddyEvil
Tofu is quite a traditional and common food here. As to cheese, we don't often use it to cook. And by the way, here the cheese will be much more expensive than tofu.




• United States
29 Apr
Good job Youless! I happen to love tofu but it does not love me sadly.

• United States
29 Apr
@youless
The soy bloats me out like a balloon

• Guangzhou, China
29 Apr
@RebeccasFarm
Is it so serious? Here when some people can't drink milk, then they will drink soy bean milk instead



• Zagreb, Croatia (Hrvatska)
30 Apr
i am but i don't know how to make it

glad for you!

• Philippines
29 Apr
Wow that's great. I would like to make my own tofu too. Is it easy to do? Tofu in the market is not fresh

• Nairobi, Kenya
29 Apr
I have never tasted tofu I only see them in movies and shows.

• Roseburg, Oregon
8 May
That is great that it came out and tasted good.

• Jakarta, Indonesia
29 Apr
wow tofu! its look delicious

some people say it's good for scrubs when mixed with milk

•
29 Apr
Yes, tofu is nice and you can make this dish with a lot of cooking style.