Finally going out....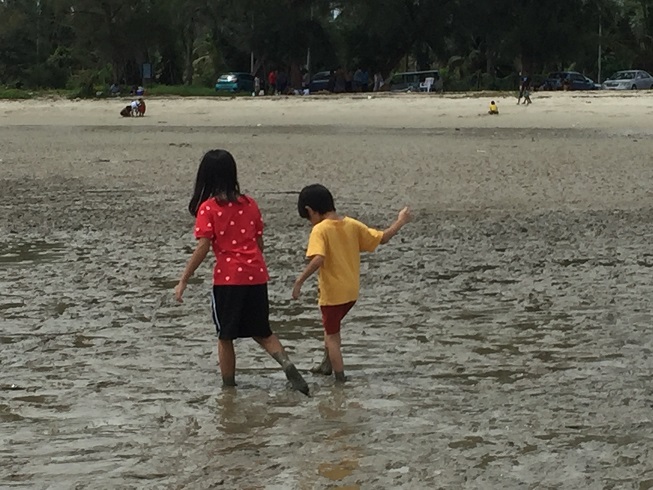 Malaysia
May 8, 2022 5:42am CST
We haven't been really going out since MCO two years ago, except going back to hometown a few times. Finally we visited the beach (about an hour drive), and we went to the park nearby too. We were all excited, though I was very tired after the trip. It's really nice going out. We are still quite cautious when going out, though many people seem to get back to normal life now. I hope to visit the club house for swimming and playing badminton, let the kids play in the park often and also go to the library. I need to borrow some books for my eldest. He has been reading quite fast and I can't afford to always buy books for him.

Do you think life will be back to normal very soon?
Picture: My younger kids are playing happily with the mud
10 responses

• United States
8 May
A lot of people here are ignoring Covid now. But it's still here. Pretty and I are still wearing masks and only going to doctors and out to buy groceries. *shrug* Whether we believe we should be opening back up or not, businesses are forcing the move in that direction. I gave you a link to free ebooks for yourself and your children. b-ok.cc Does the link not work for you?

• Malaysia
11 May
I heard that it's quite similar here as well, but I am not quite sure. Many people have to go back to office and work, instead of working from home now. I just went out on that day. It was a long holiday, so many people went back to hometown instead of staying in the city, so we chose to go out on that day. Here, we are still required to wear mask indoor. Thanks for the link. I just tried, it works for me.

• United States
11 May
@kaka135
Even though people were "required" to wear masks, most still didn't, at least in my area. You're very welcome.

• Bangalore, India
8 May
Things are slowly getting better and back to normal. I hope that it continues like that and we don't get another wave. I am taking all precautions when stepping out. Covid is still not fully gone

• Bangalore, India
11 May
@kaka135
The new cases are showing no or mild symptoms. Seems the virus is getting weak or maybe the vaccination is helping.

• Wheat Ridge, Colorado
8 May
This is a lovely photo Lee! I am not sure about normal.


• United States
8 May
What is MCO? Glad you all had fun on your outing.

• Rockingham, Australia
9 May
I was thinking that it looked like the children were in mud! lol

• Rockingham, Australia
12 May
@kaka135
They would have had a great time - and the mud would wash off.

• Los Angeles, California
8 May
Your kids have gotten so big

! Although so many covid "rules" have relaxed everywhere, it's not normal yet. They say the numbers "were" lower, but now we are going back up again . . . people are still getting sick. Covid still looms around us, so we stay cautious - even if many people around us are not. People do act like we are closer to normal again, but we are not quite there yet. That being said, we still wear masks and try to "adapt" with covid living. We strategize everything, everywhere we go . . . going early, not going to crowded places, keeping our distance from people, keeping clean, limiting the time etc. We aim for outdoors and avoid indoor public places. People aren't as cautious anymore because they don't feel they have to . . . so we have to keep safe for ourselves - still.

• United States
8 May
Most of the general public has gone back to normal and is tired of those who have not. Employees in businesses who still have plexiglass hanging up are getting earfuls about the need to take it down. It was proven ineffective by our government many months ago. But their corporate headquarters won't budge. While in one of those stores this morning, I overheard a clerk and customer talking. Both knew people who had contracted COVID three times, and both agreed it was time to stop all the fearmongering and treat COVID like a bad cold or the flu. In other words, it's time to get back to going to bed and drinking lots of fluids until we feel better and not go to the doctor or hospital unless we think we are about to die.

• Nairobi, Kenya
8 May
In my country life went back to normal I think two months ago. We no longer wear masks, you can interact in a group and there are no restrictions whatsoever.

• Mombasa, Kenya
8 May
Yes I believe we live a normal life again . Happy weekend