Two orphaned cubs rescued from an electrical pole in Ontario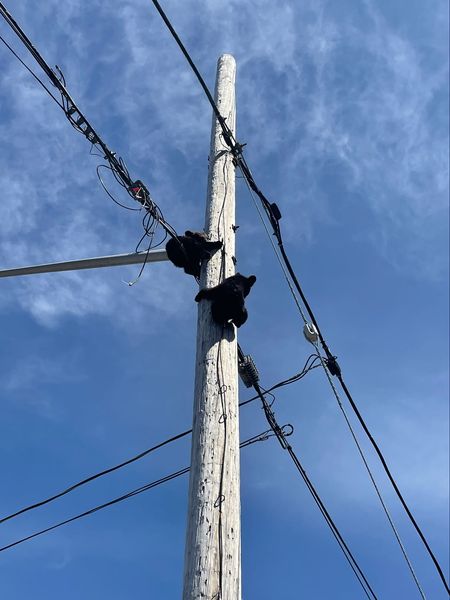 Lake Charles, Louisiana
May 19, 2022 3:11pm CST
Thanks to the efforts of a retired conservational officer named Pete Gilboe who had the assistance of Ontario Provincial Police Officers which included A J Parcher worked together to rescue two cubs were on an electrical pole near the top where the electrical wires are located. The rescue of the two cubs took place on Tuesday May 3 in Haileybury Ontario. After the cubs were rescued by the police officers and the retired conservation officer, Pete showed compassion for the orphaned cubs by first having the cubs go into a police cruiser of Officer Parcher. Pete then took the orphaned cubs home to see if the mom would come to reunite with her children. Since the mother did not come to reunite with her children, Pete had the cubs taken to the Bear With Us Sanctuary and Rehabilitation Center to spend time at the shelter until they will return to their natural home in the summer of 2023. It is amazing how cooperation between the police and a retired conservation officer worked out saving two cubs who needed their help being trapped up an electrical light pole.
6 responses

• United States
20 May
I'm so glad the little cubs were rescued.

• Lake Charles, Louisiana
20 May
So am I since I am sure that the cubs were scared being up there in the pole.

• Philippines
20 May
Those bears maybe wants to see the view from the top of the pole. Wish we have bears also in our country. Never seen one even in a zoo.

• Lake Charles, Louisiana
20 May
That is true since I am sure the bears like to see views from high places.


• Lake Charles, Louisiana
20 May

• El Paso, Texas
20 May
They really should stay at the sanctuary for at least 2 years, bears usually spend that amount of time with their mothers so they can learn about the food they can eat.

• Lake Charles, Louisiana
20 May
You have a good point there.

• Rockingham, Australia
20 May
Those poor little bears! They are a long way up that pole. I wonder what happened to their Mum.

• Lake Charles, Louisiana
20 May
That is a good question since I fear that someone must have rubbed her out.


• Lake Charles, Louisiana
20 May
I agree with you. I feel bad for the cubs being trapped up on that pole so high.