A Tradition!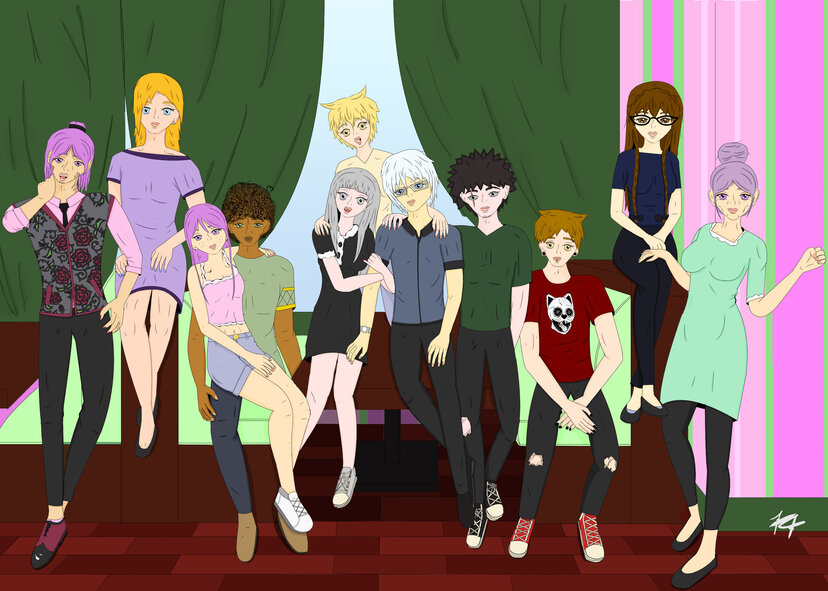 Peoria, Arizona
June 16, 2022 4:22pm CST
I realized I made an accidental tradition for myself and realized that each year it is just going to get bigger and bigger Each year during the anniversary of my webcomic I do a color drawing. For the last 2 or 3 years I have been doing black and white drawing. I used to do color, but color takes too long and I just like monochrome better. BUT I do color drawings occasionally so I can try to get better at it. And apparently every year for 4 years now I have done a color drawing of my characters! Look at how many characters I have!!! And this isn't even all of them! I guess I could tell you their names while we are here starting from the left Shuntaka Tsuki (we call him Shun) he is the son of our queen Granny Tsuki and the father or Riku Tsuki. I introduced him in my Christmas series. He was the gift from Kagami and Itachi to Riku and Granny Tsuki since he is never home, he is a concert photographer, so he is always on tour with bands. He was also a Christmas gift to myself, because...well... I just like looking at him. Aidan Martin, she is my trans character, she loves science and is a bookworm, we don't see Aidan a lot, she isn't really part of the main crew, but she kind of is. Like...I don't know, I want to include Aidan more though. Zhen Marks, we all know my love for this boy, we do. I love Zhen so much. He loves gardening, flowers, plants, and just the great outdoors, he has social anxiety so he likes his plants a lot more than being around a lot of people In his lap (scandalous I know) is Riku Tsuki, one of the main girls, she loves photography, fashion, modeling, all that great stuff Kagami Kumosaki, that is a face we see very often, the girl that does literally everything, bakes, cooks, sews but is also the hyperactive loud mouth, the mom friend who will also jump off trees if you don't catch her in time. Haruto Tengoku, is another one of my sweet babies that I adore and probably accidentally play favorites with. He like Riku also likes fashion, but is more into making fashion, he loves making clothes, sewing, knitting, and all that. My soft yet sassy boy (also...is that a hand on Kagami's lap...ooooh child) Puddin Keesu, in the back, my animal-loving, sweetie pie, they are so cute. Loves animals, loves sweets, is kind of quiet at times, but is always there to love! Itachi Kumosaki, the older brother of Kagami! He is just as loud and hyperactive as Kagami (they get it from their mother), but also very active and nerdy, he loves working out because he may be the smallest boy, but he is very strong. He loves comics and such Carter....(I forgot his last name) We don't see him much, he is the Hooseki assistant butler, so he is normally working, but we did see him a bit in the Halloween series last year! He loves music, everyone adores Carter, he is kind of the edgy hotty boy at the moment Yuuki Hooseki, my intelligent beauty, she is seen mostly with a book, has a bit of a rebellious side to her thanks to the influence by Kagami, fufufu, but she is the daughter of a very elite family, she is RICH and lastly, the woman that if she didn't exist...none of these characters would be together it is GRANNY TSUKI or Mae Tsuki if you want to know her real name but please, call her Granny! Because she is everyone's Grandma! She is the owner of Stay Sweet, the most prominent bakery in town, she is loving, caring, and a very good grandma There are other characters I have, but they are just side characters and we didn't see them a lot in the last year, but maybe they will show up more. If you know the webcomic, then you probably know who they are. But yeah! 11 characters is a lot to draw, I was very tired after drawing this. But ahh, they look so good! I am very proud of how much I have improved with my art and my coloring! Which character appeals to you the most? I am thinking Haruto is looking really good in this drawing....sweet baby boy! Ahem...yeah anyway, anyone who does read my webcomics, I really appreciate it! And those who just look at my art when I remember to put it on here, I appreciate you as well! Support is so important and I am grateful!
10 responses

• United States
22 Jun
@DesirousDreamer
- yeah, that way you can control what gets written about your series. this way itll be more reliant. actually, everything you do about your series, wiki, fan site stuff, do it with a different name. to keep it "official" to your work.

• Peoria, Arizona
22 Jun
I really should make up some biography, I plan on making some kind of wikipedia thing for my series, so that will be helpful for everyone to keep up with them.

• Peoria, Arizona
29 Jun
@Plethos
What do you mean do it with a different name? haha kind of too late for that, because I have had my website for like 4 years XD


•
16 Jun
I like Kagami, Aidan and Shun. Distinct personalities but cool.

• Peoria, Arizona
22 Jun
Thank you! They are such unique characters, I love them very much haha

• Boise, Idaho
17 Jun
I just love this picture of all your characters. I like the third one from the right. He looks like my grandson. So cute! They all have good color and have great characteristics.


• Boise, Idaho
22 Jun

• Peoria, Arizona
22 Jun
I feel like Carter is a very relatable character to many younger boys, I think that is fun haha Thank you so much!


• United States
17 Jun
You are so gifted Felicia!! Truly and I do not say that lightly!!




• United States
26 Jun
@DesirousDreamer
Well you are welcome. I really am in awe of all your things you do.

• Peoria, Arizona
23 Jun


• East Tawas, Michigan
16 Jun
Haruto is absolutely stunning and very handsome! Carter is adorable:)

• Peoria, Arizona
22 Jun
I love my baby boy! Haha (I don't have favorites...not at all!) And isn't Carter just so cute? I love him!

• East Tawas, Michigan
22 Jun

• Philippines
19 Jun
Are the characters fictitious? Or are they real?

• Peoria, Arizona
22 Jun
They are my characters that I have created!

• Peoria, Arizona
30 Jun
@Nakitakona
I do, I plan on making an entire like "wikipedia" for my characters and other information on my website at some point.

• Philippines
24 Jun
@DesirousDreamer
That's awesome. Do you have any background of your characters created?


• Petaluma, California
30 Jun

• Peoria, Arizona
6 Jul
Thank you! I think they are pretty cool too haha

• Rockingham, Australia
17 Jun
This is such a great drawing and what complex characters you're created.

• Peoria, Arizona
22 Jun
Thank you so much! I like to have my characters well developed because then they seem more real and people might find someone to connect to!

• United States
17 Jun
Wow, this is great. This look exactly like something my granddaughter would love.

• Montrose, Scotland
17 Jun
I like monochrome too I used to do black and white photography. My pictures looked quite good in black and white

• Peoria, Arizona
22 Jun
Black and White is so nice and easy on the eyes! I just really enjoy the aesthetic of it haha