Crocheting... Online summit... Planning... What's next?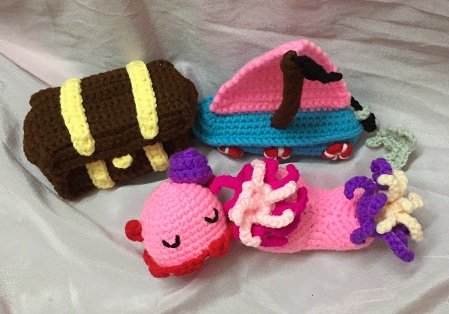 Malaysia
July 19, 2022 3:12pm CST
I was working on various crochet projects (for fun) in the previous three months. It was fun "busy" crocheting the toys for the kids, but I felt like I have neglected some other stuff. I finally "stopped" crocheting in end of June, as I didn't find any crochet along events. But I just found out there are two interesting ones coming up very soon. Will I be busy crocheting again?

There are many online summits going on, and I have been busy watching the interviews or workshops lately too. There are lots of videos to watch and lots to learn, though I have tried to pick those that I am really interested in learning. There are a few more coming up... I finally made a more detailed lesson planning for my eldest son, and made a list of trackers and checklist for him to "encourage" him to work more independently and accountably. Next, I will be planning for my daughter, and then my youngest. I enjoy planning, especially after gaining some new ideas and inspirations, learning and making things better make me feel good. But, it can be quite tiring in the midst of the planning, my brain couldn't stop thinking of it. I wonder what I will be working on after I have done all the planning. My youngest two kids have been making lots of requests - crocheting toys for them, playing with them, etc. My home and my digital files are waiting for me to clean and organize them as well. Recently, I have been thinking how I can communicate with my teenaged boy and guide him better. I really need to get some books for myself and him to read and learn. Maybe I will be busy crocheting again?

What are you busy with or working on right now?
Hope everyone will be enjoying everyday, every moment.

Picture: This is the last set of crochet items I made recently - under sea treasure set.
5 responses

• Poland
1 Aug
Your works are beautiful. I admire people who have such abilities and are constantly developing. I can't do these things myself. But I remember how my grandmothers crocheted and made various crochet wonders :)

• Malaysia
6 Aug
Thanks for the compliment. I always admire people who are creative too. I never thought I could make something until I learned it a few years ago. Though I just follow patterns created by others, it's fun creating the toys too. It's so nice that your grandmothers crocheted. I have never seen people crocheting when I was young. I guess my kids or my future grandkids will remember me crochet as well.


• Poland
6 Aug
@kaka135
So your children or grandchildren will have nice memories, because for me the moment when I was a child and I saw my grandmothers doing something on these crochets was like some magic, something beautiful was created out of almost nothing :)

• United States
20 Jul
Those are so cute. I once crocheted a lot, once I made an octopus, using a panty hose egg. Do you remember those?

• United States
7 Aug
@kaka135
They don't have those eggs anymore. No, I just stopped after awhile. I did make many, many things though.

• Rockingham, Australia
20 Jul
That's good that you are doing so much crochet. It would be fun making toys.

• Malaysia
6 Aug
Yes, it's fun making toys. Though I would like to make something more useful, since I am staying in a tropical country, knitted clothes or scarves don't really suit us here. Moreover, my two younger kids still enjoy playing the crocheted toys. I don't know when they will stop playing the toys anymore, as my oldest now.


• Rockingham, Australia
6 Aug
@kaka135
Do you have craft shops there that might take your toys and sell them?

• United States
19 Jul
The crocheted items are very cute! I like them. It sounds like you've been staying more than busy taking care of your kids and home. I've been getting some new shots from the new allergy doctor I was referred to. Hopefully, they will help stop the allergic reactions to so many things.

• Malaysia
6 Aug
Do you still have any allergic reactions now? Hope you are feeling well now. My youngest is now 6 years old. Unlike the last 10 years busy taking care of the kids, I feel like having more time for myself as the kids can always entertain themselves, though they come to me very often too. I am actually spending more time finding information for my eldest. I need to learn how to prepare his lessons as they are more advanced now, and I am learning how to deal with a teen. A new challenge for me.


• United States
6 Aug
@kaka135
Thank you.

Yeah, there's a sweet spot where the kids will take care of themselves with only minor help... until they reach the teenage years and they become almost more trouble than they're worth.

I got two of my own past that stage as well as many of my friends' kids.


• United States
19 Jul
They are adorable and look so complicated. I watched videos and tried to learn. I got sick of stopping the videos and unraveling the mess I made. I gave everything to Kay. It is amazing how she caught on sometime in her past. She was happy to get it.

• Malaysia
6 Aug
Thanks. When I started to crochet, I stopped several times as I couldn't get it, I just went back to knitting which I found much easier. There was a point I just had to make a crocheted cap for my knitted doll, so I kept trying for a few times until I got it. It's good that Kay enjoys crocheting. Though I taught my kids how to crochet, they just leave everything to me.

You are good at making cards! My girl just saw some video tutorials online and started to enjoy making cards on her own. I am too lazy to make cards with her now, though I enjoy making cards when I was young too.