Relaxing weekend for me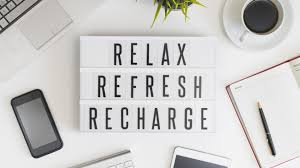 India
August 6, 2022 10:55am CST
This weekend I had decided not to check my official emails and not do any office work. Today whole day I managed to stay away from checking my whattsap messages too so that I can relax and not spend the weekend working like I have been doing last couple of years. Hope to relax tomorrow too. Planning to spend some time on Netflix and check out some new movies. Hope to get myself recharged for next week. What are your weekend plans. Anything interesting happening in your life? Pic courtesy Google
4 responses

•
6 Aug
Good for you! Self care is the most important! This is one of the habits that many people developed during the pandemic (working in the weekends) and now it's very difficult to break. I'm also relaxing this weekend. Enjoy!

• India
7 Aug
You are right. It was only during the pandemic that we started working on weekends. Earlier I would never carry my office laptop home. During the lockdown I was given a laptop to work from home and now I am stuck with it. In office I have another computer to work on.

•
7 Aug
@mayka123
Exactly! And most people just went on with it without complaining too much because we were just happy we still have a job after all those people getting fired. But this work culture needs to change asap!

• India
8 Aug
@Greencindere
Most of us worked hard just to retain our jobs. But the work culture is not changing even though office has started normal now. Its becoming a habit for bosses to give us work without thinking of our need to relax.


• Rockingham, Australia
7 Aug
With technology as it is nowadays, it can be hard not to work 7 days a week. Conscientious people find it hard to stop working sometimes.

• Rockingham, Australia
7 Aug
@mayka123
It's a shame if you are expected to be at someone's beck and call. Everyone needs some free time.

• Zagreb, Croatia (Hrvatska)
7 Aug
i was at pool yesterday, only that. warm and humid every day

netflix chilling sounds good



•
7 Aug
I just want to take a nap and go to sleep with my happy memories this weekend evening