Calligraphy Style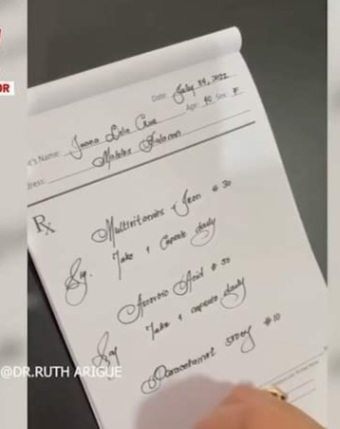 Philippines
September 22, 2022 3:27am CST
Almost all doctors that i have known, write their prescriptions in a manner which only them could read or understand.It is such a headache trying to read the name of the medicine they prescribed. It is said that the reason why their penmanship or way of writing is like that, is because they want to avoid abuse of medicine or they do not want their prescription to be faked or altered. Another thing is, doctors handwriting can always be understood or read by pharmacists so even if you as patient cannot read it, the pharmacists can always do it. But as what i have read today, there is a doctor here in the Philippines who is using a calligraphy style of writing. (That is the one in the photo.) It is clearly written as if you are receiving a wedding invitation. Have you encountered a doctor who writes prescriptions as clear as that?
9 responses

• Zagreb, Croatia (Hrvatska)
24 Sep
nice writing but i agree doctors know only their own writing


• Zagreb, Croatia (Hrvatska)
27 Sep
@magallon
i remember as a child i tried to decode their writing but i wasn't successful


• Philippines
27 Sep
@moonandstars
i have read that only pharmacists can understand doctors writing. According to them, they were trained to do it. I just dont know if it is true



• Hong Kong
22 Sep
Agree. Most doctors' writings are difficult to read. Here, in public clinics, doctors use computer so that the prescriptions are printed out.


• Philippines
27 Sep
@Beestring
i agree.

Maybe because the clinic or the hospital does not provide computers and printers for their own use.


• Hong Kong
27 Sep
@magallon
Yes, but most private medical practitioners just write their prescriptions.


• United States
22 Sep
No, the pharmacists cannot always read the doctor's handwriting! Several times the pharmacist had to call my doctor and ask what the prescription was before they could fill it. Nope. Doctors write the way they do because they're rushed when they're training to be a doctor so just scribble instead of write stuff.


• United States
22 Sep
@magallon
When that happens, it's time to look for a new doctor.

• Philippines
22 Sep
Oh yeah i agree with you. They are always in a hurry because many patients are waiting to be checked. Sometimes there are doctors who do not seem to listen in your talking because they want you to be finished right away so that they can call the next patient.


• Cagayan De Oro, Philippines
27 Sep
Agree with you only pharmacists can understand doctor's prescription.

• Bosnia And Herzegovina
22 Sep
i think that's kinda funny. imagine being sick and waiting for a prescription and the doctor is writing it slowly to look nice

and no, i've never seen a nice handwriting by doctors





• Indonesia
22 Sep
I never saw that, i cant read all the prescriptions they gave me