The way things used to be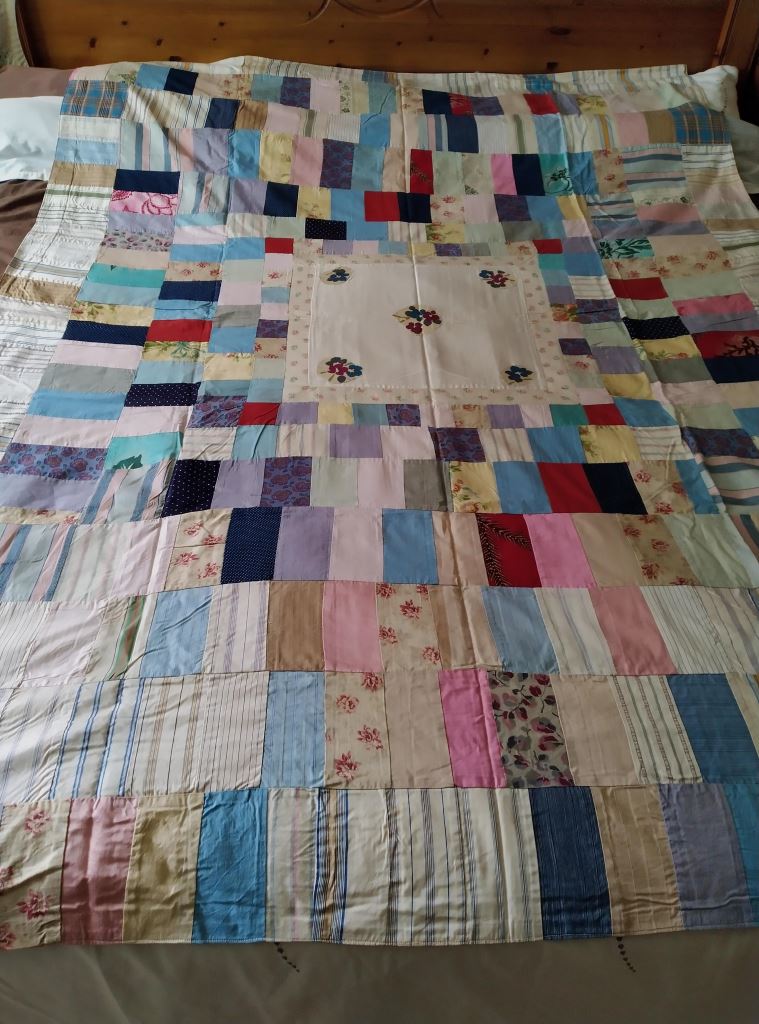 United Kingdom
November 27, 2022 6:44am CST
It's funny but not so long ago I was chatting to Little One about modern lifestyles and how things have changed. We were doing some sewing and I was talking about how useful it is to be able to make and/or mend things and how life has changed in my and my parents' lifetimes. And she agreed that you never know when things can change. Nowadays clothes are cheap, people are happy to buy new things all the time and throw away the ones they have got tired of. Same for furniture and other homewares. Of course we benefit from this as well because shopping in charity shops or on Ebay or other second-hand sites is very fashionable and a great source of all sorts of things at good prices! Apart from underwear we rarely buy new clothes or household goods. As a result I don't often make clothes any more because it's more expensive than buying them, except for special occasions. But I do still mend or alter things when necessary. When I was growing up clothes were quite expensive, we would usually go to the January sales to look for bargains of clothes and homewares such as bedding, curtains etc. and those things were all kept until they wore out, there was no thought of changing curtains to a different colour just for the sake of it, for example. Charity shops were few and the ones that did exist were mostly dingy places with that distinctive smell of old clothes, and it would be shameful to be seen going into one. Jumble sales were a source of second-hand goods but again you wouldn't admit to wearing anything bought there! But they were a useful source of fabric for crafts for example. Second hand furniture and electrical goods and things like bicycles could sometimes be picked up from 'small ads' in the local paper. My school friends and I used to make our own clothes for going out and it was all part of the fun, and a lot cheaper than buying them. When my parents were growing up they would have a trip to the city (by train) once a year to buy new winter coats and household goods. Everything was used as much as possible – outgrown clothes were handed down, and if necessary altered to make something different. Bed sheets were turned 'sides to middle' when the central part wore thin so they would last longer. Pans and buckets (all metal in those days, plastic hadn't been invented) were mended by travelling tinkers. Clothes were patched and darned, and when past repair old sheets and worn out clothes were torn up to use for cleaning and polishing, and yes also for sanitary pads (no disposables in those days). Furniture was handed down from generation to generation – and I still have some that came from my parents' grandparents. Things were made to last and whatever you had just had to be adapted according to need, there was no thought of just popping out to buy something. You would just have to look for a spare bit of fabric, wood, leather or whatever was necessary to create what you needed. A large drawer from a chest made a cot; a wooden fruit crate covered in re-purposed fabric and padded with an old blanket made a pretty sewing box or foot stool, the marble top from a wash-stand could be re-used to make a draining board for the kitchen sink when piped water arrived. Now we are facing a 'cost of living crisis' and are being told we will experience the biggest fall in our standard of living for 70 years. So who knows, maybe we will be back to patching our clothes and finding uses for old rags. And all those people who 'decluttered' all their useful odds and ends may live to regret it! At least I believe my own daughters will be somewhat prepared for whatever happens. The picture shows a patchwork quilt I found among my mother's things. And this isn't one of those trendy quilts made with specially-purchased brand-new fabric, you can see this has been made the way patchwork began, from a collection of old clothes and furnishing fabrics. All rights reserved. © Text and image copyright Fleur 2022.
10 responses

• United States
30 Nov 22
what a gorgeous quilt! i'm quite fond 'f recycle, re-purpose 'n reuse. 've made several quilts out'ta all sorts 'f thingies. no desire fer new schtuff, rarely make purchases 'f any kind. glad yer teachin' those young'uns that.

• United States
1 Dec 22
@Fleura
the price 'f goods 'd quite possibly decline, the lack 'f demand.

• United States
29 Nov 22
That's definitely a more practical quilt then the ones so many people make now mostly for display. Times were so much harder back in your youth then in mine. I love thrift stores but I do recall from movies people being embarrassed to buy clothes from them long ago.

• United Kingdom
29 Nov 22
Yes it is, practical but not as pretty because there are only so many designs you can make with old shirts! Thrift/charity shops are very trendy now and I think Ebay and similar sites also did a lot to make second hand things perfectly acceptable!

• Los Angeles, California
27 Nov 22
What a lovely patchwork quilt! A lot of what you mentioned rang a bell in me. Interestingly, these years of pandemic living have made it possible to become resourceful this way again, and to bring out certain skills from the past - at least in our household. I am thankful I had that from my parents and grateful I had this opportunity to show my kids . . . but I don't know about most of the younger generation still. Throw away society - yep.

• India
28 Nov 22
I remember those quilts although I never attempted doing them. Things have changed and how at every step of the way. For us shopping was an event as we had to travel miles by train to get there and today I do most of it online.

• Marion, Ohio
27 Nov 22
Thats a nice quilt. I still reuse a lot of things when I can.

• Rockingham, Australia
28 Nov 22
Your discussion resonates with me so well. I have friends who, say, decide to completely change their colour scheme so just about everything gets chucked out and new stuff bought. Or they'll buy so many Chrismas decoratiions you can barely walk in the house. Half of those will get chucked and new ones bought the following year. There is so much waste out there. It's shameful really.

• United States
27 Nov 22
Things have certainly changed. The quilt is beautiful.

• St. Catharines, Ontario
27 Nov 22
That's the sort of quilts I grew up with.

• Switzerland
27 Nov 22
I was born in 1951, not many years after World War II and I have experienced everything you have listed. My Mom was a professional dress maker before getting married, so I always had nice dresses that she made using the fabric from those she had to discard because worn out in some parts. I still use some bed sheets that my great-grandmother woven by hand when my grandmother got married... they are more than 100 years old, but still very good. She made so many that I have three still brand new, never used. I still know how to sew, to repair things, not to waste food and recycle, but I know that many young people are not prepared to a recession. Your patchwork quilt is very pretty.

• United States
27 Nov 22
I pray that things don't get too bad for any of us. The quilt is lovely. I have one of my grandma's.