My regional specialty dish

Indonesia
December 4, 2022 7:16am CST
Today was a bit special at a family gathering because my cousin as the host served the main dish with Lontong Opor Ayam. Lontong is a food made from rice, usually using banana leaves as a wrapper with a mold made of pieces of bamboo so that you can smell the fragrant aroma from the banana leaves. Cleaned rice is placed in it, then placed in boiling water for several hours. If we put it in the water for longer (maybe about 4 hours), the lontong will last longer or not be easily damaged even if we don't put it in the refrigerator. I don't like the latter process, because the lontong will become more chewy when you chew it in your mouth.

Served cut into flat round shapes, doused with chicken stock along with pieces of chicken meat, and spicy seasoned fries, wilted cabbage, and fried shallots as a topping. And, what's even more special, my cousin does not use a plate in general, but uses woven rattan as a plate and is placed on a banana leaf which is cut into a round shape for the presentation. Are there other Lotters here who can also share their respective regional specialties?

5 responses

• Switzerland
4 Dec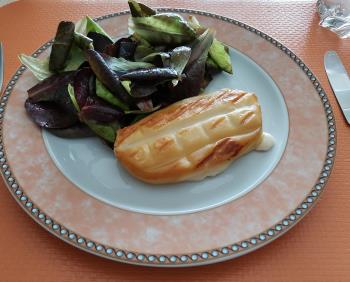 Thank you for explaining your special dish. I am sure that it is delicious. I am Italian, we have a very simple dish that I like, it is a smoked cheese called "scamorza", that we grill and serve with a green leaf salad. You can see a photo here.

• Indonesia
5 Dec
@LadyDuck
Yes, scamorza, I think I ate it once when I was visiting a friend's house where her husband is Italian and was treated to it and pasta. It's cheese and I really like cheese.


• Switzerland
5 Dec

• United States
5 Dec
Your dish sounds good. We have a melting pot of cuisines here in the United States. A very American meal would be hot dogs and apple pie.


• United States
5 Dec

• Indonesia
5 Dec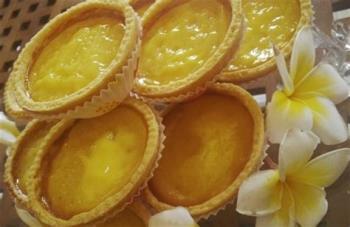 @LindaOHio
Hot dogs are also prevalent in Indonesia, including myself and my family I eat them quite often,

where many fast food restaurant chains from America offer them. While from Bali with its very famous Milk Pie.


• Wheat Ridge, Colorado
8 Dec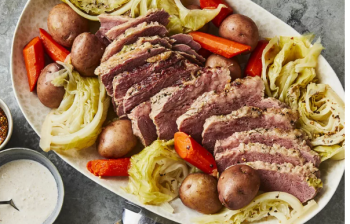 Well on my Mother's side of the family, the dish would be corned beef and cabbage. All is boiled very simply and easily. Your dish sounds so delicious. Thank you for explaining it and how it is made.


• Wheat Ridge, Colorado
9 Dec
@Jamalbawu1212
Yes even here Jamal, it is hard to come by, the corned beef.

• United States
14 Dec
Being of Irish heritage I would say my dish would be the same as yours
@RebeccasFarm

• Indonesia
9 Dec
@RebeccasFarm
I think this is a delicious and healthy dish because it is cooked without oil. And, I can also cook it myself for my family. Thank you for the advice. I will try it soon




• Indonesia
4 Dec
Lontong and opor ayam are food during Eid bro..


• Indonesia
5 Dec

• Indonesia
5 Dec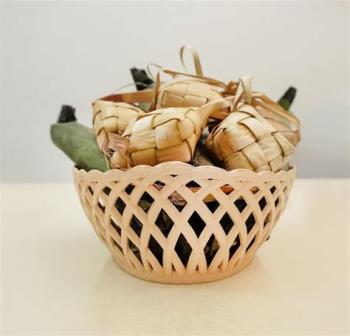 @Charlesbronson
Yes, you are right, but the dish made of rice during Eid is usually Lontong Ketupat, where the packaging material uses woven young coconut leaves, which is called "Janur". We Indonesians living in Java usually call Eid with "Lebaran", because of the philosophy of Lontong Ketupat wrapped in "Janur" leaves itself. Although, you will also find Lontong and Lontong Ketupat simultaneously in almost every house when Ied or Lebaran arrives.