Obligatory Country Music Stop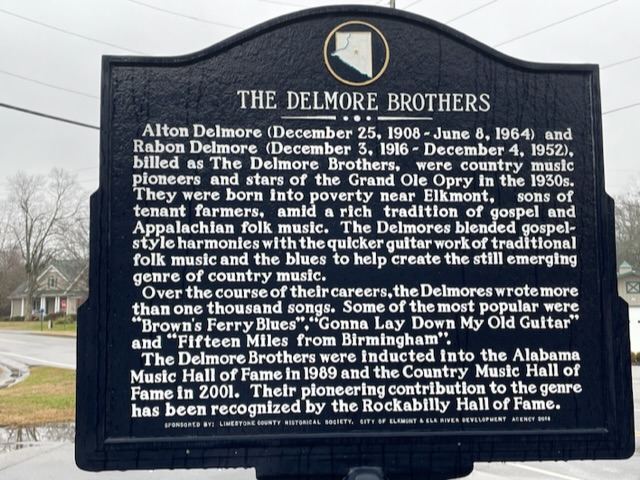 United States
January 29, 2023 9:08pm CST
Howdy from northern Alabama! I've escaped the area that's supposed to maybe perhaps have some snow and freezing rain. It was overcast all of the way, and started raining around southern Tennessee. Despite the gloom I made my obligatory country music pilgrimage. This was a stop in Elkmont, Alabama, the home of the Delmore Brothers. Even you die-hard country music fans aren't going to know them, so I'll give you a quick cliff notes version. Alton and Rabon were two of nine children in the Sand Mountain region of northern Alabama. Alton was older (born in 1908) than Rabon (born 1916), but they made a perfect duo. They started in 1927 in Elkmont, and soon they were playing around northern Alabama. They were quickly discovered and signed to Bluebird, where their plaintive ballads of life in the hard south gained an audience. By the time World War II came around they were one of the most popular country music acts in America. The weird thing was that Alton, married and over 30, was the one drafted. He served the Navy. After the war they reunited in Cincinnati and signed with King Records. There they had the best success of their career, with hits like "Freight Train Boogie" and the classic "Blues, Stay Away From Me." That 1949 song has been recorded by countless acts in country, bluegrass, and rock and roll. Seriously! Here are some of the acts who've covered it: Les Paul & Mary Ford, the Everly Brothers, Gene Vincent, Clyde McPhatter, B.B. King, Mark Knopfler's Notting Hillbillies, and Jeff Beck. That's a lot of Rock and Roll Hall of Famers doing a country song!!! Rabon died the day after his 36th birthday from lung cancer. Alton went to the bottle following the deaths of Rabon as well as daughter Susan. He was 55 when he died in June, 1964. Their legacy has included inductions into the Country Music, Nashville Songwriters, and Alabama Music halls of fame. I was so happy to stop for a few minutes to see the birthplace of two of the greatest singers and songwriters from the early days of country music. Here's their classic "Blues, Stay Away From Me" (Linda? NO!):

Your browser isn't supported anymore. Update it to get the best YouTube experience and our latest features. Learn moreRemind me later
8 responses

• Defuniak Springs, Florida
30 Jan
I know who they are! But I'm not that far from alabama!

• United States
30 Jan
I'm not that far from Florida! Well, I still am, but I'm a lot closer than when I started this morning.


• Defuniak Springs, Florida
30 Jan
@FourWalls
Did you find a good hotel? Lol. How far from us are you?

• United States
30 Jan
@thislittlepennyearns
— probably a day's drive. I'm north of Birmingham tonight. And yeah, I'm staying smarter, at a Holiday Inn Express.



• Rockingham, Australia
30 Jan
I don't know these two. I'll try to listen later but Vince is waiting to back up my computer so I'm in a bit of a hurry. Doesn't do to keep men waiting!


• United States
30 Jan
There goes a few hours (backing up the computer)!

• United States
30 Jan
@JudyEv
— that's Wayne Raney and Lonnie Glosson doing the honors. I had the privilege of meeting Mr. Glosson at a bluegrass festival in the mid-90s. He was in his late 80s at the time, and was using an electric scooter to get around, but he could still play that harmonica.

• Rockingham, Australia
30 Jan
@FourWalls
He got distracted and has now gone to the chiropractor so I'm listening and enjoying. Love the mouth-organ.



• United States
30 Jan
We've had freezing mist falling since around 5 pm today. I had to scrape almost an eighth of an inch of ice off the car windows before I could take Pretty shopping at 7 pm. We had a 10% chance of precipitation today, but that's been changed now to a 50% chance of wintery mix overnight then drops to a 20% chance for snow tomorrow and goes to a 30% chance of snow through Tuesday. Any time the forecast says there's a chance of precipitation at the weather station 45 miles away and at a lower altitude, we end up getting hit with precipitation of some type. (Apparently, no precip at all at the weather station right now.

)

• United States
30 Jan
I hope it misses everybody. Ice sucks. I'll take snow, simply because there is a way to treat that. Nothing to do with ice but stay home and wait for it to warm up.

• United States
30 Jan
@FourWalls
Pretty put off her appointment this week until next week to give the ice time to melt off.

• Daytona Beach, Florida
30 Jan
Drive safely, Glad you are enjoying yourself and I agree great country music, I love most of the old time country not the latest,

• United States
31 Jan
There's a segment of I-65 near Montgomery called the "Hank Williams Lost Highway." I've had that song in my head all afternoon.


• Daytona Beach, Florida
31 Jan
@FourWalls
and now I have Willie playing on the road again in mah mind



• United States
30 Jan
You're in Alabama already? Wow! I hope you make it down to Florida. Safe travels.

• United States
30 Jan
Northern Alabama is close. Then the state gets LONG.


• Kisumu, Kenya
1 Feb
They are really classic, I love them

• Kisumu, Kenya
2 Feb
@FourWalls
me too they are very relaxing and brings memories

• Wheat Ridge, Colorado
30 Jan
Lovely Four Walls. Rich history. I wish I were a tenant farmer back in the day really.


• Wheat Ridge, Colorado
30 Jan
@FourWalls
Oh no definitely not, but some advantages to where I am now I see.

• United States
30 Jan
I don't think it was as glamorous as we think.



• United States
30 Jan
I'm hoping to! I'm going to bring everyone along with me so we can all enjoy the warmth!