The Present Matters!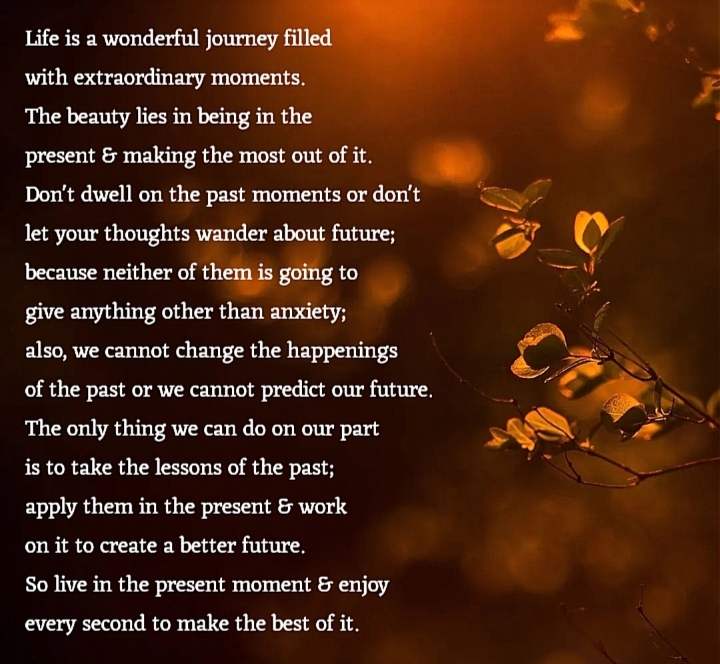 India
March 3, 2023 11:49am CST
Hello everyone! Hope everyone is doing well. It's almost 11:15 PM & I'm on the bed typing this post. Most of the time we ponder over the past or worry thinking how the future will turn out. In between, lies the present, which is the only reality. However, we often forget the importance of the present moment & let our thoughts wander. As said, thinking about what has already happened will not change anything about it. It just takes away the happiness of the present moment & adds to our worry. Again, thinking about the future will not change anything about it. It just brings anxiety. Be in the present moment & make the most of it. Live one moment at a time. Signing off with this positive thought today. Take care! Enjoy each and every moment to the fullest. Stay blessed. My thoughts on the image.

8 responses





• India
3 Mar
Be in the present is something we all should strive for. Even Lord Krishna told this in certain ways in Bhagwad Gita. Yet like an unruly student, our mind gets distracted easily. So either we can't let go the things of the past or ponder too much about the future! A lot is really about our mind control! Thanks for sharing nice and positive thoughts!


• India
5 Mar
@Teekaaa
We tend to succeed the most when we have good mind control. Distractions are often hindering factors.






• Philippines
29 Mar
Though the past may influence on how we live today but the present should be enjoyed.

• India
3 Mar
Those are well thought out thoughts

Those who do not live in the present are not living but just existing