have you ever think why everybody wants to go to hawaii?

United States
December 27, 2006 6:16pm CST
why would everybody always choose hawaii as there vacation spot? when there's other great places:)
9 responses

• Portugal
28 Dec 06
it's a dream that the tv and the magazines put in our mind. "hawaii is the paradise", "hawaii is were the reach people go"... etc...

• United States
30 Dec 06
i know huh? where would u wanna go? i would still like to go to hawaii again... its beautiful:)

• United States
30 Dec 06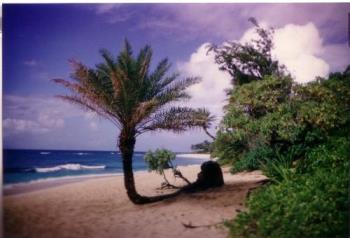 For Americans, it's an easy way to have a tropical holiday without having to deal with innoculations or passports. They speak English, although another "dialect" or "pidgin" English is very prevalent. The currency is the same. You know, it's like being home, only better! As for me, it is my dream to move there someday because I am of Hawaiian blood and have plenty of relatives there (most of whom I still have yet to meet!). Only problem is that it's getting crowded there because alot of people want to move there. Aloha!

• United States
31 Dec 06
I think that in some ways it's over rated but in a lot of ways it's as they say it is if you stick to the tourist side of it. I married a Samoan girl who lives there and am waitint to go back there in the very near future. She has sent my application away for permanent residency over there and has received it back and all that is left is for me to go back and go for a medical then get my fingerprints recorded and wait again. The residential side of Hawaii is very....how-you-say? plain? Unless off course you live somewhere like Waikiki, Diamond Head ....etc. I found it also to be very expensive too. Especially real estate. Wow man. You can pay something like over $1000 a month to rent a 2 bedroom apartment or house! Over here where I live which is melbourne Australia you can rent a 5 maybe even a 6 bedroom house for that money..But the only reason I am moving back there is because I love my wife and she don't wanna move here.

• Australia
6 Feb 07
I visited Hawaii in 1979. I would love to go back. It's a lovely place although we didn't go anywhere much besides Honolulu. I imagine that it would be very commercialized now , not that I mind that. I would like to visit the other islands too. Wayne Dyer lives on Maui. I'd love to go there and do a workshop with him.

• United States
18 Jan 07
People love Hawaii because it is beautiful and strange and magical. THey love to be there because it is where one's spiritual mana can be freed. That and the food is BOMB!!! I don't know what you are talking about anyway. You are in Las Vegas...a LOT OF PEOPLE go to Las Vegas. They hit the streets about 3PM on Fridays, at least on my side of the 15, and they don't stop driving until Sunday when it is time to go home. Why do people like Vegas so much? AUNTY


• United States
31 Dec 06
I do not think it's overratted, I think it is underrated. There are such beautiful, natural places to visit there, and it is a much slower pace. To really experiance and love hawaii, however, you need to go off the beaten path and not go where all the tourists go. I went to O'ahu and The Big Island. O'ahu is mainly tourists. That is where Honolulu and Wikiki is. On the Big Island, you can go snorkling, visit the volcano, go to black or green sand beaches, hike through the jungles, and more! A great book for tourists is "Hawaii The Big Island Revealed: The Ultimate Guidebook" by Andrew Doughty. Any of his books on the Hawaiian islands will really help you in planning your activities, and experiancing Hawaii to its fullest!

• United States
28 Dec 06
Hmmm..I never gave this a thought! I would love to go to Hawaii myself..the beaches fascinate me and Hawaii is a destination on my "must see"list but its not the only one.

• India
28 Dec 06
I like to visit Once. I have seen the pics on net & video on tv many times. i like that place.

• United States
28 Dec 06
I think because its been a traditional since pearl habor to go to Hawaii. We as Americans see Hawaii through rose color glasses.