Tsunami alert closes beaches (Sydney)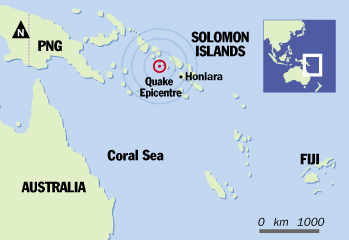 Australia
April 1, 2007 9:31pm CST
Do you remember the devastating tsunami on boxing day in 2004? Ever since then, countries in the region have tried to preferct a tsunami alert system. For the first time, Sydney beaches are on Tsunami alert: "ALL beaches in NSW will be closed today as a precaution after the Solomon Islands earthquake and tsunami. Warnings have been sent to lifeguards across NSW recommending the closure of beaches as a precautionary measure. Surf Lifesaving Australia national lifesaving manager Ben Whibley said it was the first time such action had been taken. Sydney Ferries will suspend its Manly and eastern suburbs services from 10.30am as a precautionary measure. This aleret results from an earthquake in the Solomon Islands measuring 8.1 on the Richter scale. "See map(photo)
6 responses

• Australia
3 Apr 07
According to the late news last night, Bondi stayed open! I don't think anything major happened, but it was a good test of preparedness for a tsunami warning system.

• Australia
3 Apr 07
Oh yea, what I meant to say was that nothing major happened in Australia's Eastern Seabord. At last count I think it was 15 killed in the Solomon's. I really feel for those poor people who had to suffer that experience.

• United States
2 Apr 07
I guess I have two questions. Does it seem to you that the frequency of tsunamis is increasing? Or are we just hearing about them more? Second question: Will people follow these alerts or will they complain about having their fun spoiled, and then ignore the warnings, due to a thrill seeking personality? I guess I have a third question--friend, is where you live in danger?

• Australia
2 Apr 07
I don't believe tsunamis are increasing. It's just that research has enabled far better studies, and of course, the devatating 2004 tsunami really highlighted the danger. I am not in any danger at all from the current warning, as it is the east coast. I live in the southern part of Australia. Although Adelaide is in an earthquake zone, they are lower on the richter scale than those in the Pacific. Our big worry is always, in summer, bushfires. Thabnks for your quick response & concern.

• United States
2 Apr 07
There has been a lot on the new about this latest action of mother nature showing her bad side.

• United States
2 Apr 07
http://channels.isp.netscape.com/news/story.jsp?floc=FF-APO-1106&idq=/ff/story/0001%2F20070402%2F0946416884.htm&sc=1106&photoid=20070402HON801&floc=NW_1-T There is the whole story of how buildings and villages were swept away. Hospitals and the authorities buildings are also damaged or gone so that area needs help now. I hope that people are able to extend a hand of friendship and help those people get back to square one in their lives.

• United States
2 Apr 07
I just read a news article regarding this a while ago on mylot. I'm sure no one can forget the tsunami of 2004, it was devastating! I hope people will heed to this alert and stay away from beaches. It is better to be safe than sorry.