Cats are so Pathetic!!!

Australia
10 responses

• Australia
18 Apr 07
Cts are NOT pathetic..... I have seen this photo of yours before. What a beautiful grey cat, & what a great life he leads. One of my cats sleeps exactly like this on my bed, preferably next to my husbands side.


• United Arab Emirates
18 Apr 07
You will envy the life of a cat, they just eat, sleep, play, pooh/whee, and meow that's it. They dont have anything to worry, when they are hungry they'll bug you with the meow sound same thing when they want to play. My cat does the same thing as your cat. And the way he stretches his body it's like they realy feel good about it.

• Canada
18 Apr 07
I love cats, they are not pathetic, lol, but certain types get scared alot. Himalayan cats for one are very timid gentle cats. I lost mine last year, he got out the house and never came back, and I will never get over that.

• Malaysia
18 Apr 07
Nice pic Calais. :) yeah, sometimes we will think about life n different aspect. Being a cat is having their own cat life. They don't work for food and they got nothing to lose. :) Being a human is definitely the hardest. So if you said life of a cat is so hard.. i just would have to disagree. :D hehehe. Sometimes i was too depressed about work and would rather be a cat or dog. They simply don't have that kind of depression. But we have our own purpose in life to live. We are different from them. We are created to share and love. Life in the first place is a perfect living. After sin, everything are ruined. :D Yeah, Cat is definitely a cat. I love them too!

• United States
18 Apr 07
dont you wish you could trade places for a day. i would love to feel like i own the place and everyone caters to me and me only. sleep all day and the only worry be will they feed me or do i get my own food. life of a house cat would be great. as long as i didnt have my neighbors as owners lol.

• United States
18 Apr 07
Lol. I love cats, they are ideal =P What a cute picture of your cat! I love it, they are so lazy (lucky). I would love to have a day in the life of 'cat' so I can get some needed rest!

• Canada
18 Apr 07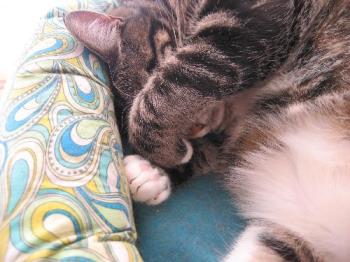 I know what you mean. I wish I could sleep like a cat seems to be able to do. It is like they don't have a care in the world and most likely, they don't. They eat. People cuddle and pet them and change their cat box. That's it. I want to come back as a cat in my next life.

• United States
18 Apr 07
I wouldn't exactly say that cats have a great life. If a cat is confined to a house all the time, I would imagine it gets bored. Maybe that's why cats sleep all the time. I don't know if its the same for cats, but they say that for us humans, when a person sleeps a lot it is a sign of depression. I have a 14 year old cat that I keep in the house all the time because I feel he's safe in the house, but if I had to look at the same walls all my life, I'd be pretty depressed about it. Think about how you'd feel.

• Australia
18 Apr 07
Oh my goodness, she is definantly not bored. She has a massive house, with scratch poles in a couple of rooms, she goes outside everyday in the cat run, she decides when she wants to come inside. Cats are nocturnal, so she'll be up all night chucking psychos around the house.

• United States
18 Apr 07
Boy did I get that one wrong. It sounds like you have one spoiled kitty that does lead a great life. Good Luck to the both of you.

• United States
18 Apr 07
They're not pathetic. They are smarter than dogs and relax rather than follow you around and beg for food or something. I love both cats and dogs and we have one of each but I really enjoy cats because they take care of themselves and don't really bother anyone as opposed to the dog who is always in our face wanting something.