Marigolds. Are yours Annual or Perennial?

United States
May 7, 2007 9:54am CST
Owning a landscaping company I get people who have conflicting information all of the time. The last one was Marigolds are a perennial. A perennial is a plant that comes back after a winter dormancy. Annuals return from seeds. I told them I don't know of any perennial Marigolds. They insisted that their father planted them and they came back every year. I haven't looked to see if I could find a perennial. I thought I would bring the issue to MyLot first to see what results that I get. Are your Marigolds annual or perennial? Feel free to add a photo if you have one. If they are perennial please list the Latin name or as much information as possible. Lets see what we get.
10 responses

• United States
7 May 07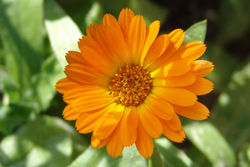 I always thought marigolds were annuals. I do have some that reseed, and may reappear in the spring, but not often. I wonder if your client was talking about pot marigolds. They are also known as Canendula. Here's a link to some information about them. I didn't know these to be perennials, but they may be n some places. http://en.wikipedia.org/wiki/Calendula_officinalis Looks like they are an herb that help with pregnancy, healing, and other things. Good luck! I hope this is what they were looking for!

• United States
8 May 07
I saw your photo and said to myself Calendula before I read your response. I forgot about those. I don't call it a marigold and try to use Latin whenever possible. So I never thought of them as the Pot Marigold that they are. Nice twist creematee. It is zone 6 here. But I think that is changing. The last 5 years the weather has been crazy. The plants are doing strange things. It was 90 degrees in March. Usually it is 60 or below until June. It used to always rain the week of my birthday now it is a dry month. And more. =(

• United States
8 May 07
The weather is definately being strange. I'm in zone 4, but the winter temps. (usually, about 10 below 0) averaged about 30 degrees. I just don't even know what to plant this year, as I don't know how it will react to such unpredictable weather.

• United States
7 May 07
Marigolds are a very harty annual plant that can be started from seeds or bought in cellpacks at any gardening center. They are particularly great as a natural pest deterrent for vegetable gardens. They come in a variety of colors and grow very well in cooler climates as well.

• United States
7 May 07
hey cool, well to tell you what i know about marigolds ,are they annual or perennial...????? They are suppose to be a annual,but sometimes they will come back...I know i plant annuals every year and sometimes they surprise you and they do come back and some don't...Being in the landscape business as you are ,you do understand that nature is unpredictable....I have had plants to come back that was not suppose to come back...If someone were to ask me, i would tell them marigolds are an annual,because they are suppose to be...it depends on the weather,how the people do their garden in the winter...If those seeds are protected,and the seeds fall into the ground under protection they can come back,but its not a sure thing...So i do not doubt them coming back but as for as the classification goes they are well known as a annual.

• United States
8 May 07
Yes they are an annual. I am pretty sure Marigolds are from New Mexico area. You are in Texas so that is possible. I know if they don't freeze I can keep them alive as long as I want. All you have to do is keep cutting the flowers before they go to seeds. Preferably as soon as a petal starts to wilt. I had some Aegeratums and the Orange Profusion Zinnia sprout from seeds. They were from the flower bed photo in my profile photos. I let them grow because they were volunteers.

• United States
8 May 07
Tagetes nelsonii Greenm. The species is from the Mayan Highlands of Chiapas, Mexico and Guatemala, where it grows in mesic to hydric conditions. In Austin, Texas, plants froze to the ground each year, but came back from underground rootstock three years in a row. Generally, loamy, acidic soils are best, but clay is tolerated. Full sun is preferred, and partial shade is acceptable Taken from http://www.hort.purdue.edu/newcrop/proceedings1996/v3-546.html

• United States
7 May 07
I have never heard of perennial Marigolds, I do however know that you can save flowers and dry them for your seeds for the next year. My grandmother used to plant Marigolds around the perimeter of the vegetable garden, she said it kept pests away. That required a lot of Marigold seeds so she taught me how to clip the flowers and dry them for seeds.

• United States
8 May 07
Yes they will deter some pests. I have what I call my weed patch. It is cosmos, cleome, marigolds and some other annuals that I allow to grow freely. I wait for the flowers to dry then take the flowers and crush them or pull the seeds out where I want them. I like the French Dwarf Marigolds.


• United States
7 May 07
There is a perennial plant called Calendula that is also called marigold, but I think I heard of a Tagetes from Mexico or South America, or maybe Africa, that is a perennial. I don't think they would winter over, though, in most of the US.

• United States
7 May 07
All the marigolds I've ever planted were annuals. I like the Queen Sofias. In fact, I'm getting ready to put in some right now. Sorry, I don't have any pictures but I plant them every year. They keep the bugs away from the vegetable garden and they're pretty.

• United States
7 May 07
I've never heard of any marigold being a perennial. In a very mild climate, they may survive the winter and come back. But if the roots have frozen, they won't. I think people mistake them for a perennial because they can reseed themselves. But true perennials come back from the roots.

• United States
7 May 07
I've always heard Marigolds are annuals. Any information I've ever looked up about them said they were annuals too. I worked in a flower store last spring selling marigolds among other types of flowers and plants. Every person I came across that mentioned Marigolds all said they were annuals also.

• United States
6 Jun 09
I planted Marigolds at my fathers grave back in 1994. They have returned every year ever since. It is now 2009!