When is a zebra not a zebra?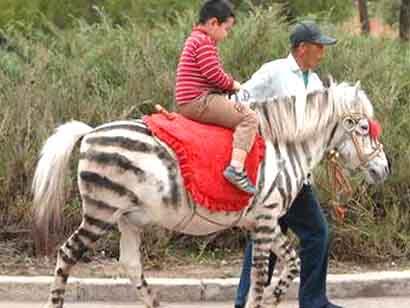 United States
May 10, 2007 9:01am CST
I though this was kind of cute and as long as the kids had fun that is,to me, not harming anyone. What do you think a scam for money or not?A Chinese park has reportedly painted stripes on a horse and is charging people to have pictures taken with the 'zebra'. Shenyang botanical park is charging 30p each for pictures with the animal which, as well as painted black stripes, has fluffy white hair. When asked if the zebra is real, the feeder answered: "It's from Africa. What do you call it, if it's not a zebra?""We saw right away that the zebra is fake, but we are here for fun, so it doesn't really matter," said a mother who had just paid for her child's picture. According to the City Evening News, the park says it doesn't know if the horse is a zebra or not: "It's not that important. It is for fun," said a spokesman. http://www.ananova.com/news/story/sm_2323626.html?menu=news.quirkies.animaltales
7 responses

• Philippines
10 May 07
The management of that park is so rediculous to fool those patrons.. Anyways, if it soesnt harm anybody, its alright but i think lies will never do any good.. To answer your question.."When is zebra not a zebra?".. when its doenst have stripes..

• Netherlands
10 May 07
Lol, now that is China :P. It reminds me of some cartoon image I saw once from a Chinese zoo in which the zebra's were painted horses like this, lions were fat cats with wigs, wolves were gray painted dogs, and parrots were sparrows with bright colors painted on them :P.


• United States
11 May 07
It all depends on what they used to "paint" the stripes with. There are many safe products; but, there are also some that are toxic to animals and can be absorbed through their skin (hide). If they used something safe, it isn't hurting anyone.

• Australia
11 May 07
I looked at your link. This is plain ridiculous. Not a crime I suppose, but it really should be discouraged. I thuink embarasssing the countries leaders with a bit of publicity about this fake zebra, should put a stop to it.


• United States
10 May 07
Very innovative and as long as it is for the kids I can handle the little fraud. I would also hope that the money collected goes for a good cause. People everywhere deserve the chance to have some fun.