Vegetables?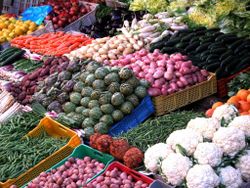 Australia
8 responses



• Singapore
13 May 07
Oh, I can't eat my veggies. My boyfriend always tells me to eat my vegetables. He said instead of me going into these crash diets I should just eat vegetables instead but for the life of me, I really can't bring myself to eat vegetables everyday. I do like the occasional lettuce, carrots and I guess my most favorite vegetables is corn.

• United States
13 May 07
I LOVE veggies! I always have. I suppose I'm unusual that way. Thus, I usually get at LEAST 5 servings a day. On some days, I probably get 3 or more servings just by drinking V8 juice alone! As for my favorite: It would be tomatoes. If memory serves, however, the tomato is actually a fruit, so technically it would have to qualify as my favorite fruit! LOL. Other favorites include: broccoli, spinach, peas, potatoes, cabbage, zucchini, cucumbers, asparagus, carrots, summer squash and beets. Thanks for a fun discussion!

• Australia
12 May 07
Hello,calais,honestly i do not always eat vegetables,i am far away from 5 servings a day.lol. I only eat some of the vegetables,i will eat buk choi or white cabbage,i like them because i do not need to wash them for long time.


• Australia
12 May 07
I love most vegetables. My favourites, in order are potatoes, carrots, corn & peas. Plus I eat a lot of salad, such as lettuce, cucumber & tomato. I'm not sure if I have 5 serves each day, but I would come close.

• Philippines
12 May 07
Hi there! Yeah, when I got older, I understood the benefits of vegetables when we have them included in our meals. I love eating vegetavles now especially cabbage. I love chop-suey, a vegetable dish and it tastes really great when mixed with shrimps and quail eggs. How about you? What's your favorite vegetable?