The Most Unpopular Congress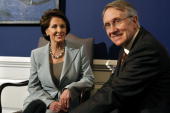 United States
May 21, 2007 5:12pm CST
Everyone talks about President Bush's low 30% approval rating and how it is the lowest since Nixon, but what about Congress? Well it is at an all time low of 27%. Obviously NBC, ABC, CBS, CNN, and MSNBC are not going to report this; of course not. It is their job to make you believe Bush is bad, and that Pelosi and Reid are godsends. Nancy Pelosi and Harry Reid want you to believe that they are godsends. Nancy said that the Democrates represent the will of the Americans, what all 27% of them? Come on, Nancy has a higher dissapproval rate than Bush 65% to 57%. What is with that if her Congress is representing you? Either the Democrates are not representing you or not doing a good enough job at it. Which is it?
3 responses

• United States
24 May 07
Remember that the polls about Bush's ratings are 2/3 registered Democratics and 1/3 Republicans and independents. What does that say!! If they use the same sample it speaks volumes as to what the American people think. Maybe Pelosi and reid should stop taking orders from Hollywood and Geroge Seros and get out and meet the real AmericanPeople.

• United States
22 May 07
Who would have guessed...Bush's approval rating is higher than Congress' is. Well now, if Congress has a mandate at 27%, then what does that make Bush's 30%? No, they are not going to talk about that...and the problem is that Congress is charged more with the day to day things than the president is. Bush is supposed to lead and Congress is supposed to keep things running. At the end of this term, Bush is done...so his poll numbers really don't affect him that much. Congress is a different story, and there could be some nasty surprises in store if they don't get their numbers up before election day...on both sides. I would love nothing more than to get rid of those dinosaurs that have been there since the civil war and get some new untainted blood in Congress. I say get everyone out of there who have been in for over about 4 or 6 years and put people in that haven't been taught the art of special interests and sweetheart deals that is so prevalent. Congress as a whole is not representing us. The democrats made a lot of promises that they can't keep.

• United States
21 May 07
Exactly...good points. I think Bush has been relatively ok, but it is congress that has really flubbed it. Pelosi? You have to be kidding, she is worse than Hillary...lol. I think the Republicans in congress aren't much better than the Dems. Instead of acting in the best interests of the country, they act only to have a job for another term. You are right, the mainstream liberal media will not touch this one with a 20 foot pole.