Brady Bunch Vs. Partridge Family

United States
May 21, 2007 7:51pm CST
As I continue my assault on television of the 60s and 70s, the next obvious comparison could only be this one. Keith Partridge or Greg Brady? Marcia Brady or Laurie Partridge? "Sunshine Day" or "Doesn't Somebody want to be Wanted?" I must admit, I've had a long time crush on David Cassidy. Much more so than Barry Williams, who played Greg Brady. Although Peter Brady got better with age. The scripts were equally hokie, perhaps the Brady Bunch a bit more so. But the Partridge's always ended with a song from David Cassidy. So, which do you prefer? Brady or Partridge and why.
5 responses

• Orangeville, Ontario
22 May 07
Friday nights: 8:00 Brady Bunch, 8:30 The Partridge Family. I watched them both equally when they originally aired. However, only The Brady Bunch continued to air in reruns after school long after it originally went off the air. And then of course the Brady Bunch had their prime time musical variety show. And then there was the spin-off series with Marcia and Jan and their husbands. And then there was the TV movie A Very Brady Christmas, and then the spoof movie a few years back (I didn't see that). Having said that, I watched more Brady Bunch then I did Partridge Family but I found Keith and Danny to be hilarious together. But I really wanted to BE Marcia Brady. As for crushed, never really had any on the Brady boys, but a little bit of Keith. Moreso Shaun Cassidy. Patrick and Ryan are pretty cute too if you ever saw them. Frankly, I'm a Scott Baio girl myself.


• United States
22 May 07
Oh I definitely liked The Partridge Family more than The Brady Bunch. Why? Susan Dey, of course! I thought she was the cutest. While David Cassidy had prettier hair than she did, she was the one that stole my adolescent heart. Her blue eyes and great big smile. I loved her in L.A. Law also. PEACE

• United States
22 May 07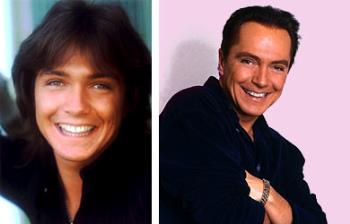 Well I watched more of the Brady Bunch but I do admit to having a crush on David Cassidy as well. I did have one on Peter too. Never did form one on Greg though. I think he always seemed to stuck on himself for my tastes. I liked both that's the problem but since I grew up mostly in the 70's I watched a lot of Brady Bunch, so I'll have to say it's the one I prefer. Now between the actors I'll take David Cassidy any day even now.

• United States
26 May 07
Probably was. I liked him in everything I saw him in after the Partridge Family. Of course I also liked Shawn Cassidy, oh boy am I dating myself here. I actually had one of his records.

•
26 May 07
I've never seen the Brady Bunch but I've heard of it. I'm not sure if we got it in the UK. However, I can't imagine anyone could have been better than David Cassidy. He was my one and only reason for watching the Partridge Family. I only have the vaguest recollection of the other characters in it - I must have been too busy swooning over David all the way through it lol!

• United States
22 May 07
I use to watch both, but I watch the Brady Bunch much more. I didn't have a crush on anybody on the show, but I just liked watching it. I did have a crush on David Cassidy and latter on Shawn Cassidy. There was something about those Cassidy boys that I liked. As the show goes, I liked the Brady Bunch more than the Partridge Family.