no not on the carpet!!!!!!!!!

United States
June 21, 2007 7:13pm CST
How many times have you yelled this to your cat? Why is it that when they are two inches away from tile or linoleum, they still aim for the carpet when they vomit. I put new carpet in my whole house not even two years ago and they already look like the russian army marched through with gosh knows what on the bottom of thier shoes. Do your cats seem to alway aim for the carpet when the vomit? Is their anyway to train a cat to throw up only on easy cleaning floors?
10 responses

• Belgium
22 Jun 07
Heh, I don't know how they do it, but my cat does exactly the same sometimes. This reminds me of my ex boyfriend who got himself a cat, but didn't know much about what to do when the cat started vomiting (his first cat) and he reported back to me by saying '..lesson one: never carry your cat to a better spot if they're going to vomit..' He's adores his cat, but this made me laugh, it was so cute.

• United States
22 Jun 07
From my experiences with cats, I've found that there's really no way to train them. All I could have done and still do is "catch" them in the act and quickly carry them away to an area that I could clean easily. Also, there's no point in having rugs around. I had an old, worn, puked, crapped-on living room rug replaced two years ago for laminate flooring. That flooring is easy to clean and stays nice in spite of what the cats do. I've heard that linoleum is good too.


• United States
22 Jun 07
I dont know about cats, but I do have a dog. He would throw up all over the house. When you hear your pet start to heave, quickly grab them and take them to any certain place in your house. Now my dog goes by the back door and vomits.

• United States
22 Jun 07
Yeah I've tried that too. But sometimes I feel so cruel picking up an animal that feels sick. Sometimes if I do catch it in time I'll put something under him, like a towel to catch the mess. But they have ways of vomiting either when I;m not home, or 3 in the morning when I'm sleeping.

• United States
22 Jun 07
Sorry but I have to laugh. I know exactly what you mean. But we got rid of all our carpets but don't you worry, they found another place....in my clean clothes basket.lol. They have also been known to do it on anything important that happens to be lying on the stand.lol. I haven't found a way to train them yet but it would be nice if I could.


• United States
22 Jun 07
Thats so funny and very true. No matter how I try to show them dont throw up on the carpet they do it anyway. Oh well thats a cat for you. If you feed your cat dry food change it everyday and clean the bowl. My vet told me that and it works they throw up as much.

• United States
22 Jun 07
LOL! Many, many, many times! It must be some kind of ancient genetic memory in cats, don't puke on smooth surfaces, because..... who knows why! When I see one of mine about to spew, and I try to slide a newspaper or something in front of them, they back away from it as if it's going to bite them... crazy-making! Easy emesis is part of cat physiology. I'm not positive, but it may have had to do with regurgitation to provide food for the young. I know that's a trait of dogs, would have to look it up to be sure. Anyway, their esophagus is quite short, if they eat even a little too much, they blow the whole meal. There's also the hairball spews (we call them "cat sausage") and the too-empty tummy spews when they don't eat enough at their previous meal. I put catnip and oat bran in their food, and that helps to keep the sausage production down. If one cat vomits often, you might want to have that cat checked for worms.

• United States
22 Jun 07
Oh yeah, I get the all. The 'i ate too fast', the 'I ate too much fur', the 'my stomach is empty anyways, so let me put the rest on the floor' and since mine go outside the 'here's the grass I ate mom'. I too have tried to put something under them and it's like 'no thank you, I want to puke on your carpet, I'll just turn my head'. Yeesh, they never listen do they?

• Canada
22 Jun 07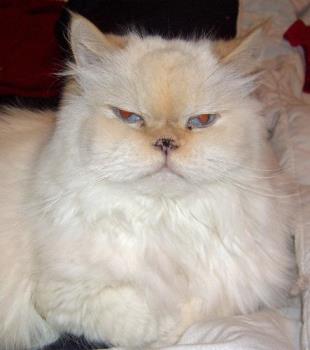 Boy can I relate to this, I have seven cats and I am always cleaning up vomit every day. They always seem to hit something that is going to stain. It drives me nuts. And I also scream at them but I usually feel really bad afterwards because they cannot help it.

• Canada
22 Jun 07
Yes, I've yelled that at my cat. I don't know what it is about carpet, but she'll move from the floor to carpet just to barf. Thanks alot, Hunnybunny (sarcastic). I mean, seriously, does it feel better or something to barf on a soft surface? Maybe during my next drunkin stooper, I'll try barfing on the carpet instead of praying to the porcaline god...

• Canada
22 Jun 07
Are you kidding me?!?!? She's "the queen", she stares at me until I clean her litterbox so she can POOP in it!